12 Jun 2019

KC Royals draft UCA's Davenport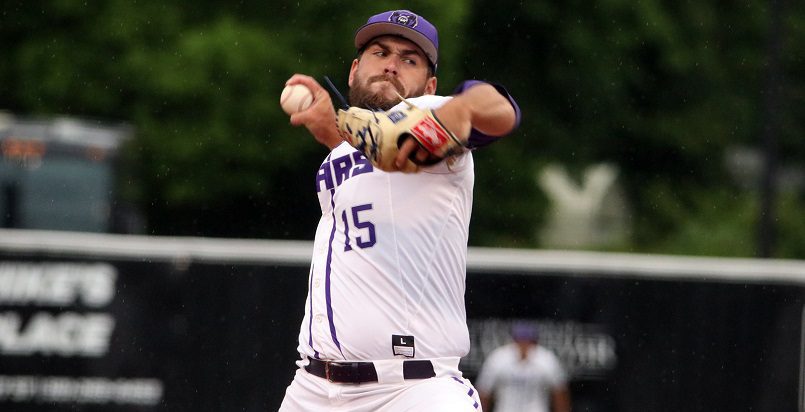 For the second consecutive year, the Kansas Royals nabbed a University of Central Arkansas baseball player, drafting senior pitcher Cody Davenport in the 20th round of the 2019 Major League Baseball Draft.
Davenport, a record-setting right hander from Fayetteville, joins three Bears (Tyler Gray, Hunter Strong and William Hancock) who were taken by the Royals last season. He is also the 10th UCA player to be taken in the MLB Draft in the past seven seasons.
Davenport was an All-Southland Conference starting pitcher who finished the season with a 7-4 record with one save. He had a league-best 1.98 earned-run average this season. He struck out a team-high 95 batters (third in the SLC) in 104 2/3 innings and tossed four complete games.
"It's pretty exciting,' said Davenport. "I've dreamed about this day my whole life and to finally have it happen is really nice."
Davenport, an All-SLC Tournament selection after winning UCA's tournament opener with a complete-game, six-hitter with 11 strikeouts and a walk against Northwestern State and then saving UCA's 6-3 win over Southeastern Louisiana later in the tourney that sent the Bears to the championship game.
Davenport, a 6-foot, 210-pounder, set the UCA school records this season with 272 career strikeouts, 365 1/3 innings pitched and 55 games started, while tying the career victories mark with 22 wins.
"Cody Davenport will go down as one of the greatest teammates and greatest players in the history of this program,' said UCA head coach Allen Gum. "From his freshman year all the way through his senior year, there is no doubt he's one of the top players to ever play at UCA. The accomplishments, the shutouts he threw in the conference tournaments, the big moments in the biggest games…
"He was just a workhorse, an anchor of our program. All the hard work that he put in paid off for him and he was rewarded in the draft. Just proud of him and thankful that he chose our program and was a part of our program for the last four years."
Davenport helped the Bears win a combined 127 games over the past four seasons and make four consecutive trips to the SLC Tournament, reaching the championship game in two of those seasons. The Bears won a school-record 19 conference games this season and drew their highest seeding (No. 2) in the tournament, finishing as runner-up.
"I think what I enjoyed the most and will always remember are the relationships with my teammates and the coaches," said Davenport. "Everything about UCA and UCA baseball is a family-type atmosphere and that was my favorite part about these past four years."
To get an opportunity to rejoin a couple of old teammates at the professional level is just an added bonus.
"The three of us (Gray, Hancock) have played with or against each other for probably 10 years," said Davenport. "It will be pretty neat to get back together with them in the same organization."