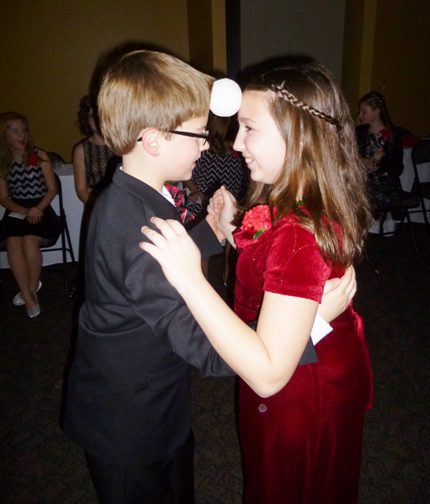 22 Dec

Junior Cotillion hosts Holly Ball

The Conway chapter of the National League of Junior Cotillions recently held its annual Holly Ball at the Brewer-Hegeman Center at the University of Central Arkansas.

Dressed semi-formally, the sixth- through eighth-grade students participated in the elegant evening, complete with dance cards, contests, prizes, corsages and boutonnieres.


The ballroom was decorated with lighted garlands and topiaries, and silver and gold metallic bows.


The Holly Ball gave Cotillion members an opportunity to put into practice all the dances and etiquette that they learned during the past half year in Cotillion classes. They danced the night away doing the foxtrot, cha cha cha, swing and the Cupid Shuffle.


Refreshments consisted of chocolate gateau and citrus punch.


Prizes were awarded to Ella Baumgarten, Cade Smiley, Skye Pruitt and Dawson Stauffer for the foxtrot contest; Katie Beth Smith, Aaron Johnson, Abby Masters and Jack Moss for the swing contest; and Claire Lambert, Gunter Campbell, Tyler VanDyke and Maddie Tipton for the cha cha cha contest.


Winners of the Snowball Elimination Dance, which required holding a ball between their heads while doing the foxtrot and cha cha cha, were Addison Cook, Benton Moss, Cooper Horton and Abby Duvall. Skye Pruitt, John Hunter Crum, Jali Lockridge and Jordan Gould won the Jingle Bell Elimination. Prizes were National League of Junior Cotillions drawstring backpacks.


"The members and parents, as well as the director, all had a great time!" said director Susan Humphries.


Parents who chaperoned for the evening were Angela Rye, Mr. and Mrs. Wes Blacketer, Kelly Smith, Kristie Moss, Beth Bryan, Amy Crum, Maria Pruitt and Kathy Gunter. Serving as the program's assistants for the year are Katherine Jeane, Jacob Muellers and Tanner Ruth.


The local Cotillion began in 1996. The seven-month program gives sixth- through eighth-grade students instruction in etiquette, proper manners and social dances. Skills taught include table manners, correspondence, proper introductions, good first impression skills, good posture, paying and receiving compliments, opening doors, assisting with coats and the like.


"It's designed to train students in the courtesies that make life more pleasant for them and those around them," said Humphries. "In just the three classes for this year, I have seen these ladies and gentlemen grow in poise and self-assurance. And our second year students are becoming very mature ladies and gentlemen."


Membership is open to any interested student in the county. For information or to get your child on the list for the 2015-2016 Cotillion program, call Humphries at 501.262.5054.