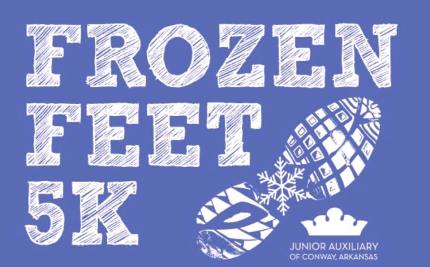 02 Dec 2015

Junior Auxiliary of Conway plans annual Frozen Feet 5K

On Saturday, Dec. 12, Junior Auxiliary of Conway will host its fourth annual Frozen Feet 5K. The certified race course will start at the Conway High School football stadium and continue through parts of historic Conway before heading back to finish at the high school.


Costumes, jingle bells, hot chocolate and jolly old St. Nick are just a few reasons this event will be full of holiday spirit and fun for children and adults of all ages.


JA members will be taking donations of new socks, gloves, mittens, scarves, caps, etc. to be distributed to Faulkner County schools. Look for the giant Christmas present in the fieldhouse to drop off donations.


Junior Auxiliary of Conway is the Faulkner County chapter of the National Association of Junior Auxiliaries. A 501(c)3 non-profit organization, JA focuses on rendering charitable services which benefit the community. The main emphasis is on the welfare, education and development of children in the Faulkner County area. JA members assist and support the community by donating time, funding service projects and cooperating with other civic organizations.


For more information about Junior Auxiliary of Conway, please visit jaconway.org or follow the group on Facebook.


Registration Fees:


Late Registration *ONLINE ONLY* (through Thursday, Dec. 10): $28, T-shirt NOT guaranteed


Race Day Registration (12/11/15 & 12/12/15, 7:30 to 8 a.m.): $30, T-shirt NOT guaranteed


RACE PACKET PICK UP:


Noon until 6 p.m.


Friday, Dec. 11


The Sporty Runner


1016 Van Ronkle St.


7:30 – 8:15 a.m.


Saturday, Dec. 12


Conway High School Fieldhouse


The race will begin at 8:30 a.m.


To register, visit http://racesonline.com/events/frozen-feet-5k.