27 Jun

JROTC cadets complete Leadership Challenge

LITTLE ROCK — Cadets from Mills University Studies High School Junior Reserve Officers' Training Corps (JROTC) recently completed the JROTC Cadet Leadership Challenge held the week of June 7 at Camp Joe T. Robinson Maneuver Training Center in North Little Rock.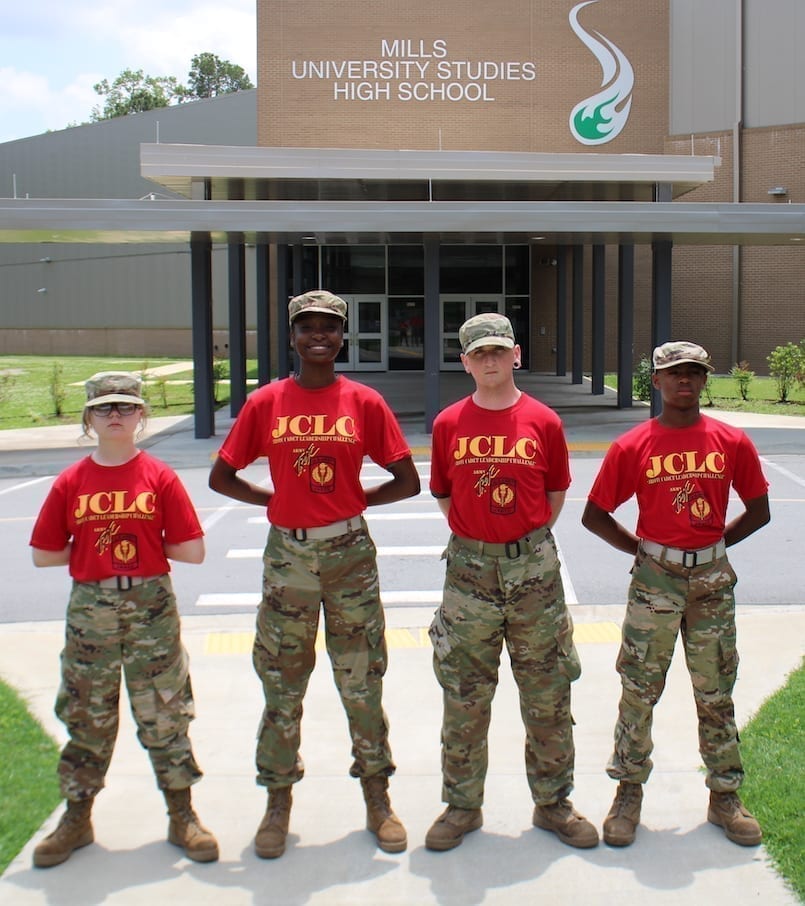 The Mills University Studies High School Army JROTC Comet Battalion had twelve Cadets participating. They were Cadet Sergeant Ro'nya Blueford, Cadet Corporal David Cannon,
Cadet Sergeant Jaylin Daniels, Cadet Private First Class Jada Goode, Cadet Private First Class Cody Nelson, Cadet Corporal Elijah Patton, Cadet Sergeant Jacque Phillips, Cadet Corporal Juell Phillips, Cadet First Sergeant Xavier Rhea, Cadet Private First Class Meredith Stoops, Cadet Sergeant Eriana Watkins and Cadet Sergeant Ja'Aliyah White.
More than 230 cadets from 18 of the 26 Arkansas Army JROTC School programs participated in the week-long leadership training camp. Cadets completed a new, state-of-the-art 22-station obstacle course that was broken in color-coded quadrants with at least five obstacles in each quadrant. They also participated in land navigation, survival skills, fishing, and STEM activities.
Cadets had the opportunity to experience rappelling off a 40-foot rappelling tower. Check out videos of Cadets Meredith Stoops and Jaylin Daniels taking turns on the tower as well as the air assault free fall rappel.
The week-long challenge also included a leadership reaction course and a best platoon competition. Cadets Meredith Stoops, Eriana Watkins, Elijah Patton and Jaylin Daniels were members of the Best Platoon of JCLC 2021.
United States Army National Guardsman Specialist Vincent Cox, current UCA student and 2020
MUSHS graduate, proudly served as a JCLC Camp Mentor. Cox participated in the JCLC in 2019.
The Mills University Studies High School Army JROTC Program Instructors are Master Sergeant(Retired) Timothy Dunn and Lt. Colonel (Retired) Paul Brown.