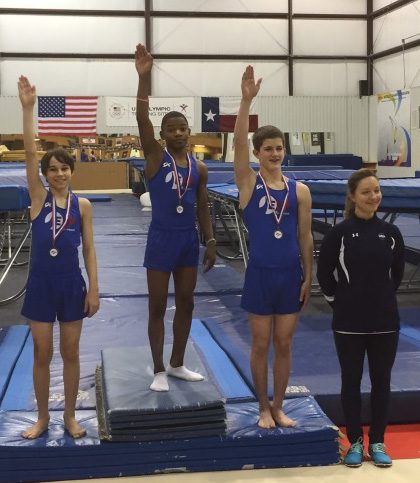 21 Jan

Josh Hicks wins gold medal in international competition

Sonshine Academy's Josh Hicks won a gold medal in the Boys 13-14 Tumbling and a bronze medal in Boys 13-14 Double Mini Trampoline at the International Elite Development exchange camp held earlier this month at the USA Gymnastics National Team Training Center at the Karolyi Ranch near Huntsville, Texas.

Twenty-three Level 9 and 10 athletes from the U.S. qualified in September through the Elite Development Program to represent the USA in the International Exchange Program. Twelve athletes from Denmark and Canada accepted invitations to attend. The schedule included a competition in trampoline, tumbling and double mini-trampoline and a coach's clinic. Twenty-two coaches from Canada, Denmark and the United States were in attendance.


USA Gymnastics designed the exchange program to equip athletes and coaches with the knowledge and training to facilitate the progression of athletes from the top of the Junior Olympic levels into the elite ranks. The camp included instruction from the USA's national coaching staff and a strength and conditioning clinician.


Konstantin Gulisashavili of Maryland directed the exchange program, and the USA National Team clinicians were Tatiana Kovaleva of New Jersey on trampoline, Chauncy Haydon of Oklahoma on tumbling, Scott Lineberry of North Carolina on double mini trampoline, and Paula Lord of Indiana on strength and conditioning.