16 Jun 2021

Jewell makes history as UCA's second All-American

EUGENE, Ore. – History was made on Wednesday, as Zachary Jewell became just the second track & field student-athlete to earn a Division I All-American honor. Jewell represented the Central Arkansas track & field team at the 2021 NCAA National Championships in Eugene, Ore.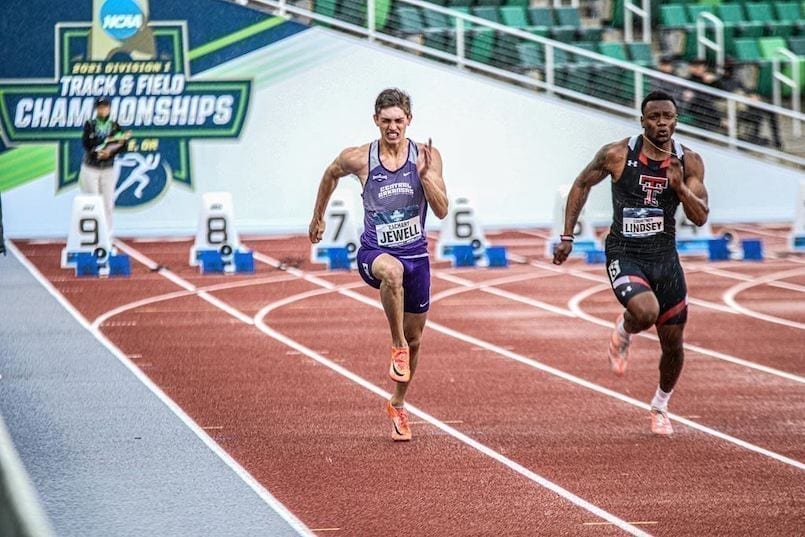 Jewell was in the first heat of the 100m semifinals. He finished seventh in his heat with a time of 10.37. After the final two heats, Jewell was ranked 16th and collected a Second-Team All-American nod in the process. He is the second UCA All-American and the first track student-athlete to earn that honor. Jewell joins high jumper Eric Moore as the only other All-American.
Jewell concluded a stellar career at UCA, as he holds the 60m and 200m records, and is tied for the school record in the 55m for indoor. He has the fastest times in Central Arkansas history in the 100m and 200m. Earlier this season, he finished second in the 100m and won the 200m at the Southland Championships.
From the Coach – Head Coach Beau Theriot
"It wasn't the race we wanted, but 16th in the nation and an All-American honor is nothing to be upset about. He has a great chance to make the Olympic trials. Zach has represented the university amazingly and with a lot of class."
From the Student-Athlete – Senior Zachary Jewell
"The results were not what I was hoping for, but I can't be upset because I know that I did my best. Just being able to make it to this meet is a big accomplishment. It has been a memorable season with many highs and lows, but I've pushed through it all. I'm super thankful for my coaches for getting me to this level. I'm also thankful for each and every person that has supported me throughout my career. I am proud of myself and just being able to run has been a blessing."