26 Apr 2021

It's time to celebrate 501 Day!

By Stefanie Brazile

You're invited to join in community celebrations, exciting events and one-day business specials all around Greater Central Arkansas on Saturday, May 1 (5/01), as part of a celebration of all of the cities that fall within the area code – 501!

The first annual 501 DAY is the brainchild of the Downtown Little Rock Partnership who came up with the idea and reached out to other communities in the region.

"Everyone we contacted said 'yes' and it snowballed from there," said Ellen Lampe, director of communications for the organization. "This celebration of hometown pride and local businesses very quickly became a team effort and, beginning in January, we met every other week to encourage participation and collaborate.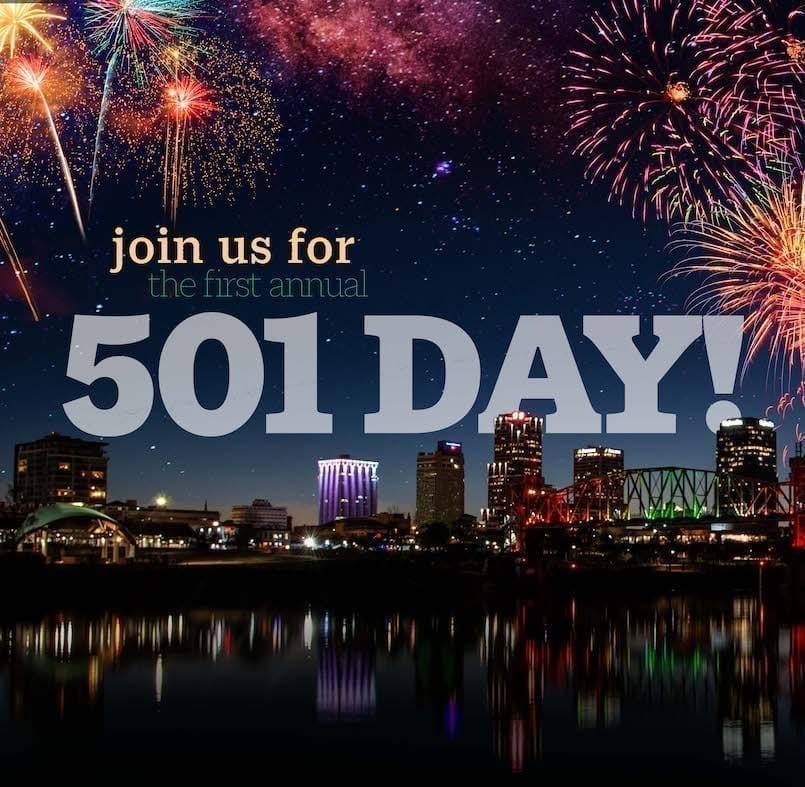 "The concept is to inspire everyone to get out of the house whether it's going to a favorite local business or driving to a trail. Of course, a main goal is a celebration of community and The Natural State and all of the wonderful things we have to offer.
"We also developed the handle '@celebrate 501' and '#celebrate501' to be part of a larger movement of being proud of where we live and we encourage people to use that hashtag throughout the year," Lampe said. "We hope it will culminate each year in a 501 day."
And yes, there's merch! "We are selling merchandise through RockCityOutfitters.com and you can go on their site and buy shirts," Lampe said. Once on the site, click on "More," then you'll see the "501 Day Collection."
"You can't celebrate 501 Day all day if you don't start in the morning!" said Kim Williams, director of the Conway Downtown Partnership. "Start the day off right with breakfast at any one of our fabulous downtown breakfast places."
If you are part of a civic or community group, a nonprofit or a business, get creative and inspire neighbors to get out of the house, while practicing COVID-19 safety. The possibilities are endless if you'll stop and let Central Arkansas whisper inspiration in your ear. Warmer temps and friendly neighbors beckon us outside, so let's #celebrate501 together.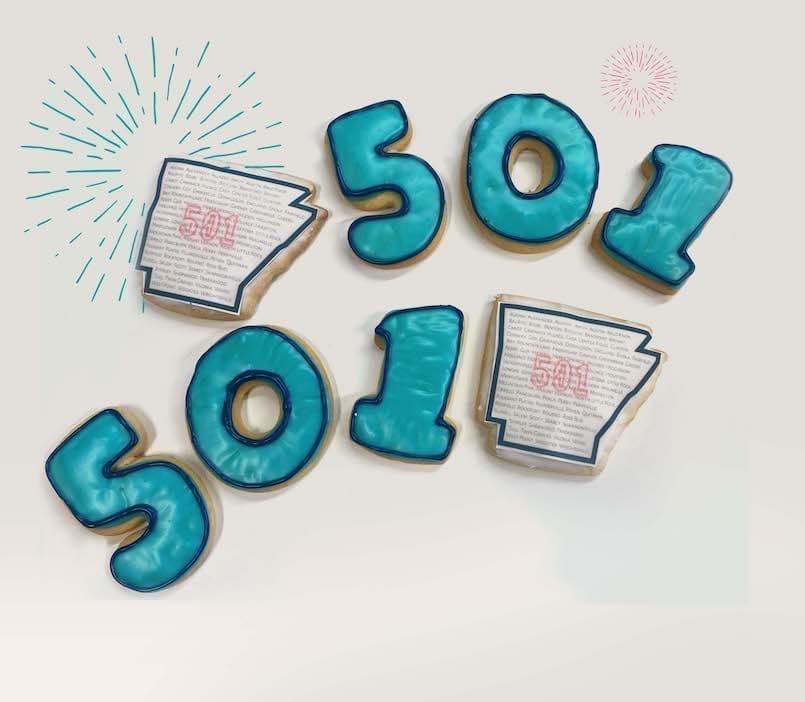 Don't miss these 501 Day Sweet Specials
Conway
Can't celebrate 501 Day if you don't start in the morning! Start the day off right with breakfast at one of our fabulous downtown breakfast places.
At noon, we will explore downtown with our new Historic Downtown Walking Tour.
That afternoon, we encourage you to shop downtown, with deals including $5.01 off purchases at Golden Girls. Cross Creek Sandwich Shop has six cookies for $5.01. Blue Barn Bakery is offering $5.01 off any purchase of $30 or more, plus free Arkansas cookies!
Heber Springs
Celebrate 501 with the people who help make the heart of Arkansas great! Join us for a fun 501 Maker's Market on the square.
Hot Springs
Smith's Lakefront Cabins, located feet from Lake Hamilton, is offering a discount of $5.01 per night beginning May 1.
North Little Rock
Celebrate 501 Day at Funland Amusement Park in Burns Park with special discounts, including unlimited ride admission for $5.01 and specials on food and drink.
The Burns Park Golf Course will reduce green fees to $5.01 beginning at 2 p.m.
The Arkansas Inland Maritime Museum is offering $5.01 tours of the USS Razorback and the USS Hoga tugboat!
Get your crawfish fix at The Boil Food Truck with one pound of crawfish for $5.01 from 2 p.m. to 8 p.m.
Satisfy Your 501 Day sweet tooth at the Crepe Coop Food Truck and get one of their sweet crepes for $5.01.
Sherwood
The Sherwood Chamber of Commerce and the city of Sherwood will host a family-friendly event at the newly established entertainment district, with activities from 5 p.m. to 7 p.m. and then a concert featuring Cliff & Susan.
Searcy
The Main Street Searcy Farmers' Market will have 501 Day deals from 8 a.m. through noon on the east side of the courthouse square.
Rockin' Arkansas Vendor Events (R.A.V.E.) will host a 501 Day vendor and craft fair with food trucks and live music!