20 May

It's strawberry season!

Whether it is while shopping at the local grocery or passing the corner produce stand, who can resist the beautiful new strawberries?

We all should take advantage of the fresh offering of Arkansas strawberries while they are available, but thankfully strawberries are available year-round.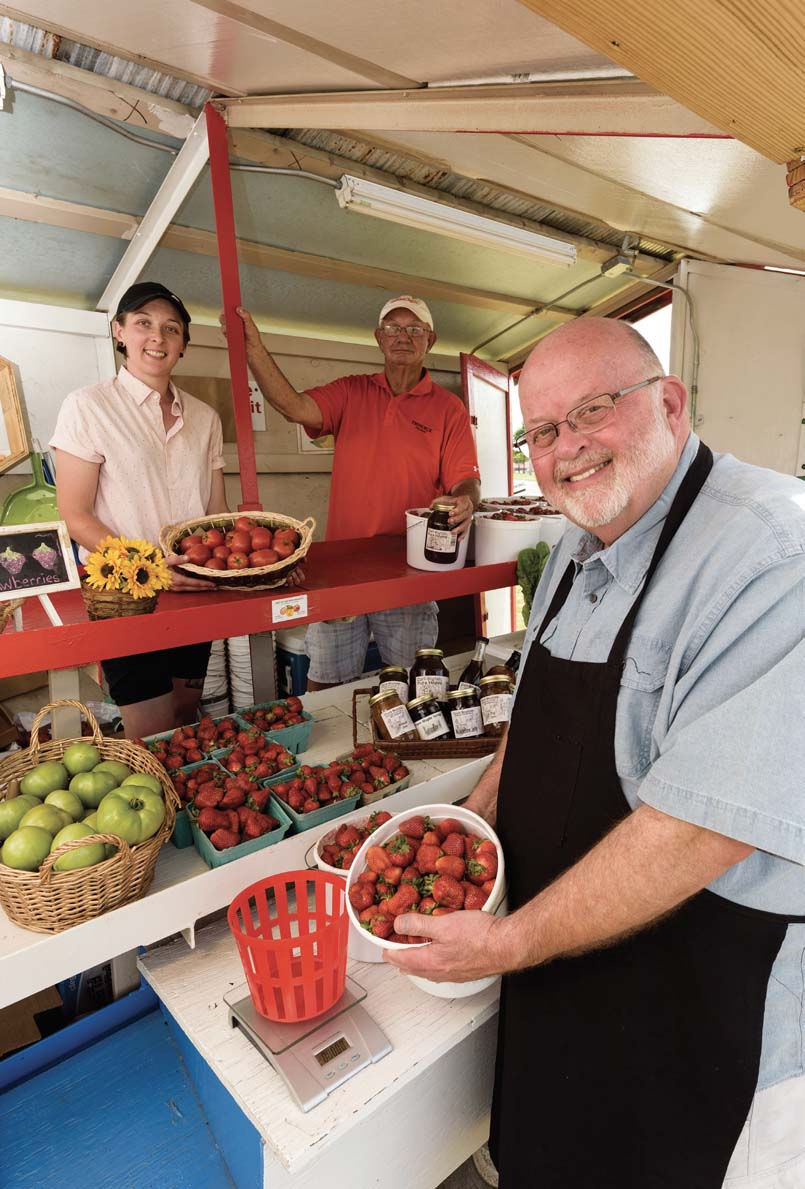 I did some research on the history of the strawberry and found that it is widely known as a hybrid species of the genus Frag aria. It is cultivated for its fruit and was first bred in Brittany, France, in 1750. The strawberry fruit was mentioned in ancient Rome literature for its medicinal use. 
The combination of strawberries and cream was created by Thomas Wolsey in the court of King Henry VIII. Strawberries can be frozen, made into preserves, dried and, of course, made into desserts.
New research indicates the strawberry can help lower the risk of cardiovascular diseases and regulate blood sugar levels.
It has become the norm to add sliced strawberries to a mixed garden salad. Adding strawberries with a bit of orange juice will also make a wonderful, refreshing coulis sauce. To add strawberries to breakfast shakes presents a more vibrant taste and texture.
Almost any good cookbook will have a variety of strawberry pie recipes. A regular on our spring table has been the delectable strawberry and pretzel salad.
Whatever you choose, now is the time to indulge in the locally grown strawberries – many produced here in the 501. Here are some of our favorite strawberry recipes:
STRAWBERRY PIE
2/3 cup granulated sugar
2 tablespoons cornstarch
1 cup water
1 small package strawberry gelatin
1 pint fresh strawberries
1 10-inch pie shell, cooked and cooled
1 8-ounce package cream cheese, softened
1/4 to 1/2 cup powdered sugar
Dairy whipping cream
Cook sugar, cornstarch and water until thick, stir in gelatin. Let cool completely, but not set up. Pour fresh strawberries into cooled liquid. Mix cream cheese with powdered sugar, according to taste; spread on bottom of pie shell; pour strawberry mixture over and refrigerate. Serve with whipping cream. Serves 6-8.
PRETZEL SALAD
2 to 3 cups crushed pretzels
1 1/2 cups margarine, melted
4 3-ounce packages cream cheese, softened
1 1/2 cups sugar
1 8-ounce container whipped topping
1 6-ounce package strawberry gelatin
2 cups pineapple juice
1 10-ounce package frozen strawberries
Spread pretzels in bottom of a 9×13-inch baking pan; pour margarine over pretzels; bake 10 minutes at 400 degrees; cool. Beat cream cheese and sugar until smooth; spread over warm pretzels. Spread whipped topping over cheese mixture; chill. Heat juice; add gelatin; stir until dissolved; add frozen berries; chill until partially set. Pour over cheese mixture; chill until firm.
STRAWBERRY LEMONADE
1 cup fresh lemon juice, strained
1 cup sugar
4 cups strawberries, hulled
2 tablespoons light corn syrup
1 lemon, thinly sliced
Combine the lemon juice and sugar into a 3-quart pitcher and stir until the sugar is completely dissolved. Set aside 2 large berries for garnish and place the rest of the berries in a blender. Add the corn syrup and 2 tablespoons water and blend until the berries are pureed. Pour the berry puree into the pitcher with the lemon juice mixture. Add 4 ½ cups cold water and stir until well combined. The lemonade can be made up to 24 hours in advance. Keep covered in the refrigerator. Thinly slice the reserved strawberries and add the berries and lemon slices to the pitcher. Add ice to fill the pitcher and stir until the lemonade is cold. Serve over ice in tall glasses. 
CANDY "STRAWBERRIES"
2 3-ounce packages strawberry gelatin
1 cup chopped pecans
1 cup flaked coconut
3/4 cup Eagle brand milk
1/2 teaspoon vanilla
Red tinted sugar
Green tinted sugar
Combine gelatin, pecans and coconut. Stir in milk and vanilla. Mix well. Chill one hour or longer. Shape into small strawberries (about 1 teaspoon each). Roll each piece in tinted sugar – red for bottom and green for very top. Store in airtight container.
GLAZED STRAWBERRY CREPES
4 cups fresh strawberries (2 pint baskets)
1/2 cup water
2/3 cup sugar
2 tablespoons cornstarch
Several drops red food coloring
10 cooked crepes
1 cup whipped cream or scoop of vanilla ice cream
Wash and cap strawberries. Crush 1 cup of smaller berries. Slice larger berries and set aside. In small saucepan, cook one cup smaller berries with water until berries are soft. Combine sugar and cornstarch. Stir into strawberries and juice. Cook over moderate heat, stirring constantly until thickened. Add several drops of red coloring. Cool for about 5 minutes. Stir sliced berries into glaze. Fill crepes with strawberries and glaze. Fold over. Refrigerate for about 30 minutes. Top each crepe with whipped cream or ice cream. Serve immediately. 
Don Bingham
Recognized throughout the state as an accomplished chef, Don Bingham has authored cookbooks, presented television programs and planned elaborate events.