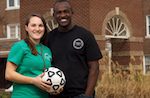 19 Mar 2011

Inspiration: CBC student starts foundation

by Donna Lampkin Stephens

Charles Otieno has traveled 8,440 miles to make a life in the 501, and Central Baptist College and Conway are the better for it.

So, too, are the youth of his hometown, Nairobi, Kenya, thanks to the President Kimbrow Foundation he has established there in honor of Dr. Terry Kimbrow, president of CBC.
When he eventually returns home, armed with the bachelor's degree in business administration with a management emphasis from CBC he'll finish in December in addition to the law degree he hopes to earn following that, he'll take a piece of the 501 back with him.
"God is my witness, some of the best and, I hope, lifetime friendships I've ever made in my life are here in Conway," said Otieno, 24, who played goalkeeper for CBC's soccer team until this year, when he gave up the sport to focus on his academics. "I've met very kind and godly people in Conway, especially at CBC; this institution has changed my life drastically, and if I was to do it all over again, I would come back to CBC.
"Sooner or later I'll leave, but Conway will never leave from me. I'm very appreciative of the Conway residents and all their support to students, especially international students."
Otieno's path to CBC was a winding one, but it seems to confirm that a higher power directs our paths.
When he was 14, his parents were killed in a road accident. He was the third-youngest of 12 siblings and afterward went to live with his older sister, whom he described as "a prayerful lady." His parents were Catholic, but before going to live with his sister, he only knew Jesus as the Virgin Mary's son.
"My coming to know Jesus was after the passing of my parents," he said. "That is when I found myself in a deep depression. It gave me a lot of shock."
Like many young people, he's been a soccer nut since he was a child. He played for Mathare United and the Kenya junior national team before being recruited to play collegiately in the U.S.
He had a choice of CBC and schools in Houston and Chicago. He chose CBC because he wanted to pursue a Christian education, arriving in the 501 in January 2008.
"When you attend a college where education professionals and staff are not merely there to make a living but to enable the students to study more amply, with greater vision, with a finer spirit of hope and love through Jesus Christ, you've no option but to be affected in many positive ways," he said.
Otieno left Nairobi as Kenya was lapsing into civil war following the 2007 general election, in which the incumbent president was defeated by the opposition leader but refused to leave office.
"He used government machinery to forge (election) results that sparked a lot of anger around the country," Otieno said. "In the process, there were a lot of killings and maimings, and the police did not do a very good job of playing peacekeeper. The government machine used the police to kill people who were protesting.
"Hundreds of youths were dumped in rivers; people were attacked; buses were stopped. It was chaos everywhere."
One of his older brothers was killed, a victim of the violence as he tried to protect the family's business from marauders.
He went home for Christmas 2008, but with the unrest, his sister wanted him to return to CBC. He said since then the political situation has eased a bit with a coalition government in place, but "no one wants anyone else to succeed."
That trip home saw the birth of the President Kimbrow Foundation, a non-profit organization that is helping hundreds of children and youth in Nairobi. According to Facebook, the aim of the foundation is "social change for the street communities of Nairobi. (It) strives to keep the streets safe, engage and encourage the youth in the community, inspire and develop soccer talents in the neighborhood, create a drug-free environment and most importantly — convey the gospel of Jesus Christ."
"So many youths were affected by the extrajudicial killings by the police and the fighting among the tribes," he said. "I was quick to note the tension that existed among the youths. People who once lived together as friends and neighbors were now suspicious of each other, (some) directly affected by the loss of property or the loved ones struggling to heal.
"I had all the reasons to be mad. At this point is when God put it in my heart to use my influence among the youths to restore hope and help with the healing process."
Having been a soccer star, he was able to use his reputation at home to get the foundation started. He felt God was telling him to use his influence through soccer to come up with a project.
"I shared my vision with the elders and the young alike," he said. "Everybody loves soccer. It's a way of bringing people together and trying to send the good message, especially to the kids."
And, he said, just as any newborn needs a name, his program did, too.
"In Africa we name babies after the person we admire or want the baby to acquire his values when he grows up," Otieno said. "Nobody that I've rubbed shoulders with would fit that position like President Kimbrow; he is not just an administrator but a friend and a dad to many students. He embraced me even when he couldn't pronounce my last name, and he sometimes found me weird because I don't eat cheese, yet I eat weird stuff like minnows.
"He nevertheless encouraged me through some difficult and important times in my youthful life, and I'll never pay him back. I believe that the lifestyle of this great man of God represents the values that this foundation is pursuing, thus I named the program in honor of President Kimbrow as a living reminder of the godly principles that he has set forth and we should live for in our daily life."
Otieno quotes John Maxwell, who said, "One is too small a number to achieve greatness," to illustrate how the President Kimbrow Foundation works.
"(The foundation) is the bus that brings forth people with ideas, skills and resources to help us achieve these goals and to meet the most basic needs," he said. "For instance, during the President Kimbrow Christmas Tournament last year, we gave out more than 50 pairs of school shoes, 200 T-shirts, 3,000 (200-page) books, soccer balls and soccer uniforms, among other things.
"We cannot do anything of real value alone; through the charitable organization, we've extended our arms far (and) wide to reach other people who share the same values, to be part of our team."
And while Otieno has been a blessing to his fellow Kenyans, he's also touched many lives in the 501.
"I had a sense when I first met him that God was going to do great things in and through him," Kimbrow said. "I have not been disappointed. Charles Otieno has brought much joy into many lives. He has a contagious smile and positive outlook on life that draws people to him."
Lauren Gammel, also a CBC student, traveled with Otieno to Kenya in December to help with the foundation's Christmas tournament and to scout out future mission opportunities for CBC students.
"It changes your life when you go into a different culture, especially when you have a mission on your hands to do the glory of God," she said. "He was like a bigger brother to almost everyone we met."
She said the two greeted hundreds of people during their stay. The foundation, though, is touching even more.
"Putting on a project within a community like that creates a lot of waves," Gammel said. "It definitely has a lasting impact on not only the people directly in the community but also those watching and seeing the change."
Otieno said her visit was an example of bringing in others to help the foundation with fresh ideas.
"Her visit and services down there was a big blessing to many youths, though she argues that the visit was more of a blessing to her than to them," he said, adding that the girls flocked to Gammel, who was able to provide a feminine ear they needed.
Otieno is preparing to take the LSAT and hopes to enter law school in the Fall 2012. He'll apply to Liberty University, Northwestern and the University of Arkansas at Little Rock. In the meantime, after graduating from CBC, he hopes to gain experience by working for a law firm.
"My desire is not just to be a lawyer but to be able to offer services to my people," he said. "I've always had a desire to be a lawyer, to be a voice of the people. I endeavor to (eventually) join the field of active politics in Kenya, hoping to influence the leadership style that has seen Kenya and Africa fail to overcome challenges that are virtually history in most parts of the world, costing lives and shuttering hopes of very able and talented people, chiefly the children."
He jokes with friends who have difficulty pronouncing "Otieno," "You better learn how to say O-T-I-E-N-O, for you'll hear it again someday; you don't want to be left out!"
At CBC, he helped the soccer Mustangs reach regional tournament action the last two years. He's been an active member of the CBC Orientation team for three years and is serving his second term on the Presidential Leadership Council.
He's also worked with the Conway High and Conway Christian soccer teams on goalkeeping drills.
"The enthusiasm to learn, and the desire to succeed, in youths inspires me," he said.
The decision to give up soccer this year was one of the hardest decisions he's ever made, he said.
"I once read somewhere that, 'spinning more plates doesn't increase your talent; it increases your likelihood of dropping a plate,'" he explained. "Too much was going on back home with my family. I was working a lot of hours to take care of my bills, and the upper level classes were proving to be elusive. These issues affected my concentration in the field, and being an experienced player, there was so much expectation of me that I felt I was not meeting."
Since he couldn't give soccer his all, after a lot of prayer, he decided it would be best for the team if he gave up playing. But he remains the Mustangs' biggest fan.
"It's my school; it's my team," he said. "I'm there always for them when players need to talk to me. I encourage them. If Coach (Justin Hawkins) needs me to do anything, I will."
In giving up soccer, he forfeited his athletic scholarship. That was another consideration.
"I needed that money at all cost to be able to remain at CBC, but my quiet prayers for guidance paid off," he said. "I felt unusual peace about it; I was comfortable enough to talk to my mentors and coach about it. I was amazed by the way and the attitude in which they received the news; though disappointed, they were very understanding and encouraged me to listen to God and act on His guidance."
The Conway Noon Rotary scholarship was an answer to prayer.
"That meant everything to me," Otieno said. "It meant staying in college and not dropping out; it meant people really care and would love the best for me in my endeavors. Words alone can never express how appreciative I am for all their help. My dreams are now within reach; my future is brighter than ever before. I earnestly thank them for their generosity and love for all students they support like me.
"I've had various scholarships; every semester someone will give, according to students' needs. I believe those scholarships are the reason why I'm still here."
Obviously, CBC has been a major blessing in his life.
"Through personal experiences and struggles, I can attest to the generosity, love and spiritual guidance of this great institution," he said. "CBC has not only increased my knowledge, it has reminded (if not taught) me to love, to forgive, and most importantly to be human.
"I'm humbled to acknowledge that I think I've made lifetime friendships at CBC, friends that have become my brothers and sisters, fathers and mothers, a family to me. A family is a deliberate thing. CBC is what it is because of the deliberate sense of values. Everybody cares about everybody, and what makes CBC outstanding is the deliberate realization of effort to be your brother's keeper and to share God's love. That reflects what being a Christian is."
It seems as though God wants him at CBC.
"I think so, too," he said.