18 Sep 2019

Inaugural bike ride planned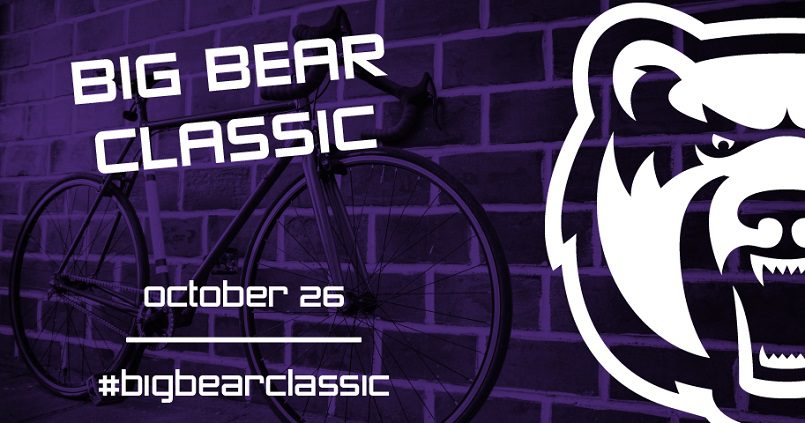 There will be a new event this year at the University of Central Arkansas homecoming – the Big Bear Classic bike ride.
The event is planned the morning of Saturday, Oct. 26, at Donaghey Hall on campus. Net proceeds will be presented to the university's general scholarship fund.
Former UCA President Tom Courtway is leading the group organizing the event.
In March, Tom talked with Johnny Adams, president of the Conway market of First Security Bank and a local bicycling enthusiast, about putting together a cycling event in conjunction with homecoming. As the two began planning, more individuals and groups became interested in helping plan the inaugural event.
The committee numbers about 30.
First Security Bank and Conway Regional Health System are the major sponsors of the Big Bear Classic. Route sponsors are Nabholz, Rogers Group and Textbook Brokers.
Registration is $35 per person before Monday, Sept. 30, and $45 after. UCA student registration is $25. Registration includes a T-shirt and after-party admission. Cycling jerseys will also be available for purchase, separately.
Participants have three routes from which to choose from: 50 miles (Big Bear Route), 25 miles (Purple Route) and 10 miles (Gray Route). The two longer routes will start at Donaghey Hall and travel east. The 10-mile route, ideal for families, will go through campus and across the new pedestrian bridge over Dave Ward Drive into a couple of neighborhoods.
"Safety is No. 1," Tom said, adding there will be six rest stops staffed by volunteers. He has high praise for the churches and volunteers who will be assisting as well as the law enforcement agencies and government officials who are on board.
After the finish, there will be a social event at Donaghey Hall for participants.
"We want to have fun," Tom said. "We want it to become an annual event."
For more information, visit uca.edu/bigbearclassic.
Those involved in the planning include: Johnny Adams (First Security Bank), Lindsay and Jon Ross Henderson (Conway chamber and First Security Bank), Ju­lie and Tim Gorman (Rogers Group), Jeff Standridge (The Conductor), Lori Ross (Conway Regional Health System), Andrea Woods (Nabholz), Angi McDaniel (Nabholz), John Ed Moore, Tara and Erik Leamon (The Ride), Conway Mayor Bart Castleberry, Steve Ibbotson (City of Conway), Faulkner County Judge Jim Baker, Mark Ledbetter (Faulkner County road foreman), Conway Police Chief Jody Spradlin, Conway Fire Chief Mike Winter, Lt. Aaron Lenderman (Con­way police), Faulkner County Sheriff Tim Ryals, Officer Erinn Stone (Faulkner County Sheriff's Office), Mayflower Police Chief Robert Alcon, Lt. Jamie Boothe (UCA Police), Officer Kevin Ford (UCA Police), Blake Duffield (Central Baptist College); and Kale Gober, Jesse Thill, Jon Stephen Stansel, Peter Mehl, Lisa Christ­man, Kim Eskola, Lynn Schaefer, Lesley Graybeal, Victoria Mays and Anthony Fillipino (all from UCA).