Thousands of girls in the 501 and throughout the state are continuing an American tradition that started nearly 90 years ago – selling Girl Scout cookies.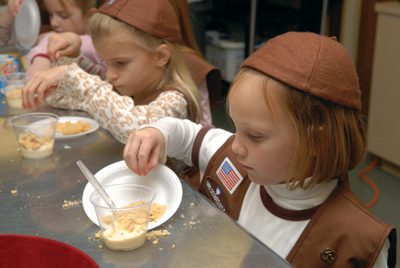 The Girl Scout Cookie Program kicked off Jan. 10 and will continue through mid March with booth sales beginning Friday, Feb. 20.
This year, customers can choose from eight varieties of Girl Scout Cookies including one new selection, Dulce de Leche. The traditional favorites are back: Do-si-Dos, Lemon Chalet Cremes, Samaos, Sugar Free Chocolate Chips, Tagalongs, Thin Mints and Trefoils. All cookies contain zero grams of trans fat.
Girl Scout Cookies not only satisfy the sweet tooth, they also provide opportunities for girls to develop important life skills. The cookie program is the largest financial literacy and entrepreneurial program for girls in the country. Girl Scouts practice leadership and communication skills, learn to manage money, and gain confidence in reaching their personal goals, while also working with a team to reach troop goals.
"Each and every year I know we are training girls to achieve their dreams. Whatever their futures hold, we are equipping them with tools to achieve future success," said Denise Stewart, president and CEO of Girl Scouts –Diamonds of Arkansas, Oklahoma and Texas. "You could be buying cookies from a future secretary of state or CEO of a Fortune 500 company. How many delicious products can you buy that offer character building, teamwork and leadership opportunities for the leaders of tomorrow?"
In addition to providing a valuable program experience, all proceeds from the Girl Scout Cookie Program fund Girl Scout troops, camps, training and programs for more than 18,000 girls and 6,800 volunteers served by the council.
For more information on purchasing cookies, please call 501.758.1020 or 800.632.6894, or visit www.girlscoutsdiamonds.org.
In addition to being tasty on their own, Girl Scout cookies can be used to make other delicious treats.