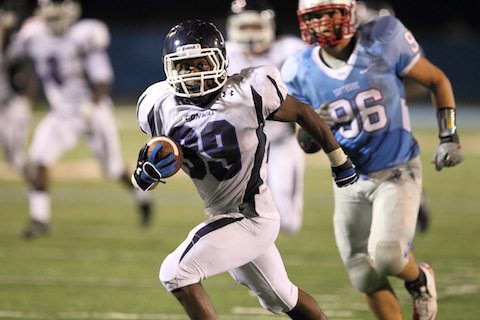 14 Mar 2012

In pursuit of his dream – Alexander taking football to the next level

by Mark Oliver


From the front yard of his grandma's house to the Friday night lights of Conway High School, senior Corven Alexander has entertained crowds of many different sizes. Soon, he'll be able to display his abilities in front of his biggest crowd yet – a packed college stadium.
Alexander recently signed a letter of intent to play football for Harding University in Searcy. He joins 26 other athletes from all over the country to comprise next year's freshman class for the Bisons.

"When I visited Harding, it looked like a very good program," Alexander said. "The coaches really liked me, and they told me that I had a lot of heart. It's a good school. It's a good way to further my education and a good way to further myself in football."

Standing at just 5-foot-6, one of Alexander's biggest role models is New Orleans Saints running back Darren Sproles, who broke the NFL single-season all-purpose yardage record last season.

"As a short player, you have to work that much harder to make it that far," Alexander said. "He's one of the top running backs in the NFL right now. My dream is to make it big in the NFL, too. I want to be as good as I can be in college and enter the draft or free agency. I want to be the next Darren Sproles or even better, hopefully."

Mindful of the challenges and obstacles ahead of him, Alexander has a backup plan in mind, just in case.

"Even if football doesn't work out for me, I want to stay involved in sports any way that I can," he said. "I would like to go into sports management or be a sports therapist. I want to be able to help other players further their careers and follow their dreams."

Alexander's favorite memory of his time playing football at Conway High was winning back-to-back conference championships, and he'll be the first to tell you that success doesn't come easily.

"I've been through a lot," Alexander said. "[In high school,] I was playing against other people who were bigger and stronger than me. I had to gain lots of weight to be ready for each season. I had to work really hard to get to the top."

Despite all of his abilities on the field, Alexander says he couldn't have done it without the support of his family. 

"I love my family," he said. "My uncle, Marcus Hudson, is a huge inspiration to me. When he was in high school, he was one of the top running backs in the state. I've taken a lot of things from him, and I have always looked up to him. My whole family has always supported me and has always come to my games when they could."

Alexander also offered advice for other players sharing the same dreams of making it big in football and playing for a college team. 

"Show out," Alexander said. "You have to work hard, keep your head on straight and most importantly, get good grades. Without them, you can't go further than high school football."

Now that he's taken the next step in his football career, Alexander is proud of his accomplishments and excited for his future at Harding University.

"I think that football is the greatest sport of all," Alexander said. "I grew up in a football family. Now, I will be the first in my family to go to college for football. It makes me feel good; it makes me feel like I'm able to break the chain and make my family proud. I'd like to bring it to the next level and hopefully further than that."