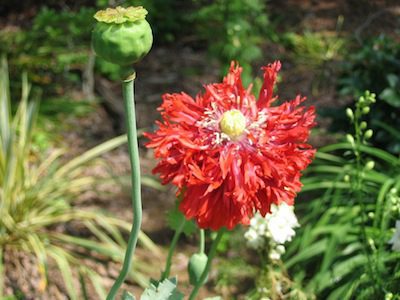 21 May 2011

I come to the garden alone

Posted at 9:33 PM

in

Faith

There's a delightful old hymn called "In the Garden," by Charles Austin Miles, written in 1912. A pharmacist by trade, he loved to compose hymns, this being one of his most revered. He often encouraged his followers of the importance of "alone time" in the devotional life.

It speaks of one of the most needed components of the Christian life, one of the most neglected aspects and that which is still one of my favorite enjoyments – personal, private "alone" time with the Lord. Though we may be regular attendees to Sunday services, the priority, pursuit and passion of having a "closet" relationship with God is a "must have" for a personal relationship with God.

It's in coming, alone, to the garden of quiet meditation and prayer, that we can get beyond the noise of life, the lure of technology and the stress of deadlines to establish a heart relationship with all three aspects of the Trinity.

While in the "garden of quiet time" one evening, I decided to write down my "Personal Ten Commandments" for 2011 – a spiritual "bucket list" for this year.

1. May I learn to enjoy more and more a personal communication with God the Father, God the Son and God the Holy Spirit, to know each One on an intimate, personal and shared level. May I commit fully to prayer to know the mind of God, to desire His glory above all and have confidence in what He has done for His own.

2. May I find those "open doors" to share the joy of what worship is, Who worship is – the beauty of His holiness – and experiencing the TRUTH in worship.

3. May I know a year full of joy, music, art, peace, multiplied graces, spiritual victories, deliverances, spiritual sight and unshackled communication with my personal God.

4. May I make more time for prayer and find more men to pray. May I pray to love my family as much as possible, to celebrate where I am in life and be quick in prayer and fellowship with God.

5. May I have a clearer vision for what God wants in corporate worship and without an ounce of compromise press forward.

6. Expect great things and not settle for the easy, mundane and common.

7. Know more victory over sin, self and the adversary. Pray more for my enemies.

8. Be thankful, be gentle, be humble, be loving, be kind, be strong and be disciplined.

9. Celebrate His mercy and loving kindness throughout the day.

10. Redeem the time, finish the work I have to do with joy and delight and know that "I have finished the work you gave me to do – I have glorified YOU, Father, upon the earth" (John 17).

With spring gardening and being outdoors, what a privilege it is to spend time alone in prayer, reading, meditating and celebrating the mercies of God. (I have included some recipes to use in enjoying the bounty from the garden.)

My wife, Nancy, recently gave me a verse for my office wall: "Be watchful, stand firm in the faith, act like men, be strong . . . let all that you do be done in love" (I Corinthians 16:13-14).

As I move about in my quiet time, I will take this verse with me and realize more and more "the joy we share, as we tarry there – none other, has ever known" is a gift to be treasured, to water and cultivate in "coming to the garden" during 2011.

May each of us find that time to fast from technology and enjoy the time spent in the garden of prayer.


Gazpacho

3 medium bell peppers, chopped and seeded

3 medium cucumbers, peeled and chopped

5 medium ripe tomatoes, peeled and chopped

2 medium red onions, chopped

2 cloves garlic, chopped

3 teaspoons salt

1/2 teaspoon oregano leaves

1/2 teaspoon basil leaves

1/2 teaspoon Tabasco

1 tablespoon Worcestershire sauce

1/2 cup salad oil

1/2 cup red wine vinegar

2 tablespoons lemon juice

Garlic croutons


Mix all ingredients together except croutons; put in refrigerator for two hours. Take about two cups of mixture; put in blender for about 15 seconds; and stir all together. Chill. Serve topped with garlic croutons. Serves 8.


Strawberry Soup

1 cup fresh strawberries

1/4 cup honey

1/4 cup sour cream

3/4 cup cold water

1/2 cup dry red wine


Place all ingredients in blender. Liquefy. There will be tiny seeds visible, but straining is not necessary. Chill. Stir well before serving. Serve in wine glasses. Serves 3-4.


Fresh Corn-Stuffed Tomatoes

6 ears fresh corn

2 tablespoons onion, grated

2 tablespoons all-purpose flour

4 tablespoons water

12 tomatoes

Salt, pepper and sugar to taste


Cut off corn; scrape back up ears to get juices. Place corn in skillet; add enough water to half-way cover the corn. Add salt and pepper to taste; add sugar to taste. Add onion; cook in iron skillet about 10-12 minutes. Mix flour with cold water until smooth. Add to corn and stir until thickens.

In the meantime, core tomatoes. Add salt and invert to drain. Fill with corn and bake 10-12 minutes. Serves 12.


Melon, Cucumber and Tomato Salad

1 cucumber, unpeeled

1 melon (cantaloupe or honeydew)

1 pound fresh cherry tomatoes

DRESSING:

1/3 cup wine vinegar

3/4 cup oil

1/2 teaspoon dry mustard

Salt and freshly ground pepper to taste

Pinch granulated sugar

3 tablespoons chopped parsley, mint and chives, mixed


Cut the cucumber into cubes; lightly salt and let stand while preparing the rest of the salad. Slice the melon lengthwise from top to bottom in four equal wedges, then carefully slice the melon off the rind, leaving the rind intact and reserving to form four large petals of melon slices. Cube or ball removed melon. Wash and dry the tomatoes. Rinse the cucumber and dry. Mix melon, cucumber and tomatoes together. Chill. Arrange the melon rind shells in a glass bowl by placing them on their ends like a tulip. Fill bowl with the fruit.

DRESSING: Combine ingredients and mix well. Chill and serve over salad. Serves 8-10.