30 Jun 2022

Hot Wheels collector and painter plays his cars right

By Lori Dunn

Cars of all makes and models get Little Rock resident Jimmy Wilson's motor running. "I've just always been fascinated by cars," he said.

Wilson, who grew up in Sherwood, is a buyer for a food distributor, but model cars are his passion. He has thousands of Hot Wheels and Matchbox cars on display.

"As a child, my parents started buying me Matchbox cars," Wilson said. "But at age 11, I became enamored with Hot Wheels. They were so fast, so different, and had the orange track."
As a boy, Wilson didn't collect the cars to display in pristine packages. He collected them to play with, and the cars were eventually banged up like most well-loved toys tend to get. After he graduated high school, the cars were passed down to his nephew. Years later as an adult, he became interested in collecting again.
In the mid-2000s, Hot Wheels released its Bone Shaker series, designed by model car designer Larry Wood. The Bone Shaker series is a line of hot rods that feature a distinctive skull on the front. They became one of Hot Wheels' most iconic models.
"It was the hot rod that sparked my interest in collecting again. I started buying Hot Wheels every year when new ones were released," he said. "I probably have about 6,000 of those both loose and carded (packaged)."
He also started looking at Hot Wheels' redline VW Bug that was released in 1968.
In recent years, Wilson has developed an interest in customizing model cars by taking them apart, painting them, and adding graphics. Instead of making them look new, he prefers them to look old. "My real interest is making them look like an old car you would find in a barn or a junkyard. It's really an art form, because it's not easy to make a car look rusty or old," he said.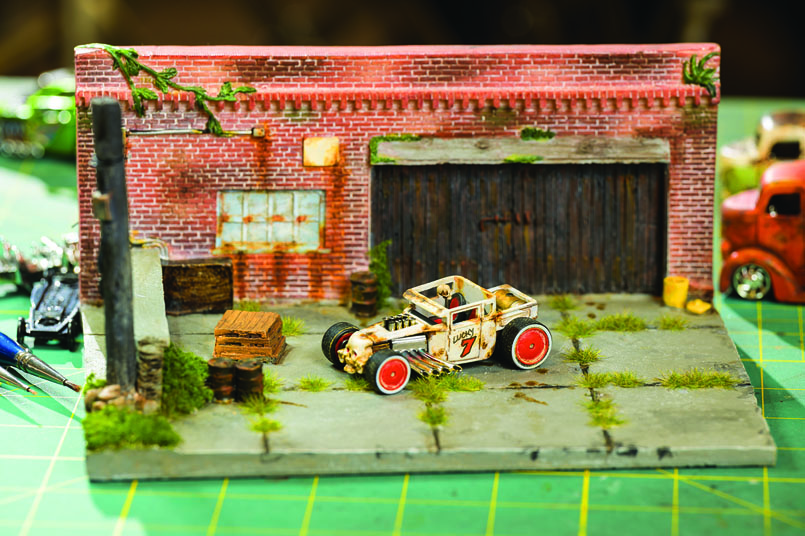 His tools for customizing require a very fine paint brush, a very specific type of paint, a magnifier and special glasses. He finds many of the cars he works on at flea markets, and they already look a little rustic from years of being played with. Sometimes he customizes newer model cars but never ones that would be considered highly collectible in their original form.
Wilson paints the cars in his basement, but everything else car related he does in the kitchen.
"My wife is patient and lets me do it in the kitchen. She does needlepoint in the living room and I'm in the kitchen and we can talk," he said. The Wilsons' also have two grown daughters who are always on the lookout for cars for him.
Wilson interacts with other car collectors on Facebook, attends live trade shows, and finds some on eBay. There are regional swap meets every few months and national conventions annually. "It's great to go and meet like-minded collectors," he said.
Both Matchbox and Hot Wheels have interesting histories. Matchbox was introduced in 1953 and was the first die-cast toy car. It is now owned by Mattel. The brand was given its name because the original cars were sold in boxes similar to the ones matches were sold in.
Hot Wheels came along years later and appeared brighter and faster. Mattel introduced them in 1968 for children, but they are very popular with adult collectors.
Wilson said for him collecting cars is a "throwback to childhood. It's about being an adult but having an outlet for toys," he said. "Toy cars are much cheaper than real cars and easier to store."