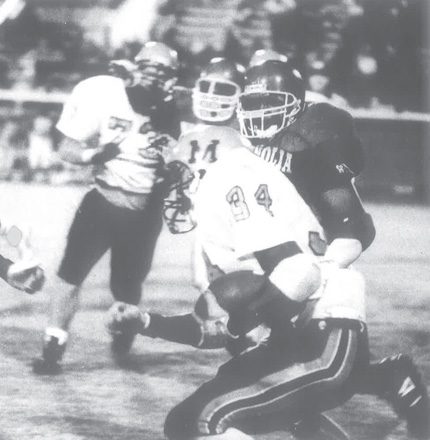 22 Oct 2017

Hot Spring County: Madre Hill

by Bob Reising


Arkansas almost lost him. After leading Malvern High School to the state's AAA Football Championship in 1993 and claiming a then-high school state rushing record of 6,010 yards and 68 touchdowns, Madre Hill found himself in the midst of America's football recruiting wars, coveted by every university seeking to claim or retain national gridiron distinction.

Finally, after narrowing his choices, he was ready to sign with one of the three riding atop the national polls when David Alpe, Malvern High's respected coach for 37 years, reminded him that if he committed to that institution, he would never have an opportunity to play in front of the home-state crowds that had come to revere him. Alpe also noted that, while the University of Arkansas had not enjoyed national success since 1989 or played in a post-season bowl since 1991, the nation's high school rushing leader could help to return the institution's program to football eminence.


Madre quickly changed his mind. Never has he regretted his decision. His coach's sound advice catapulted him, first, to a solid season offensively for the Hogs in 1994 and, in the following fall, to a record-setting one. In the latter, while tallying 16 touchdowns, he rushed for 1,387 yards on 307 carries, two program highs not broken for 11 seasons. In 1995, too, he set a program record for most rushing touchdowns in a single contest, six, against South Carolina. More important, he led the Razorbacks to the Western Division Championship of the Southeastern Conference (SEC) and a place in the CarQuest Bowl. In just two seasons, Madre had helped move the University to the pair of accomplishments for which all Hog faithful yearned: a championship and a post-season bowl appearance.


But his success came at a high price. In the game that decided the SEC Championship, he suffered a knee injury that would have ended the playing career of many a football player — but it merely side-tracked Madre's. His teammates sorely missed his offensive prowess in their CarQuest loss, and two seasons —and a second knee injury — disappeared into history before he re-joined them on the gridiron. In 1998, however, while captaining the Hogs, he performed superbly, rushing for 669 yards on 160 carries while scoring seven touchdowns. In two of the team's six SEC victories, he rushed for more than 100 yards, 120 against Alabama and 106 against Kentucky. Most important to Hog fans, for the second time in Madre's three seasons, the Razorbacks earned the SEC's Western Division Championship and a post-season bowl bid.
After completing his eligibility, Madre cast his lot with professional football, playing three seasons in the National Football League (NFL) and one in the NFL Europe. A third major injury, this one to his neck in 2000, interrupted his Cleveland Browns play. In 2001, he opted for a contract with the Berlin Thunder, whom he proceeded to lead to victory in World Bowl IX. Back in the NFL, he had the distinction of being on the Oakland Raiders active roster when they appeared in Super Bowl XXXVII in January 2003. Unfortunately, because of pregnancy problems his wife was experiencing with their firstborn, he was forced to end his playing career soon thereafter by declining Coach Jon Gruden's offer to join his Tampa Bay Buccaneers, winners of that Super Bowl.

Madre, however, did not sever ties with the sport he loves. While completing his baccalaureate in 2004, he served on Houston Nutt's staff at his alma mater, and subsequent seasons found him assisting major university football programs in Florida and South Carolina. Yet calls from outside of athletics finally lured him in 2011 to head RazorClean Inc., a management, supply, and contracting company, now with locations in 14 states.

Today, Madre enjoys admirable success. Happily married, he is the father of four handsome children and the chief executive officer of a successful firm. Recently, he earned selection as an SEC Football Legend and was inducted into the University of Arkansas Sports Hall of Honor. Clearly, too, he remains a model of athletic excellence in Hot Spring County and in the 501.