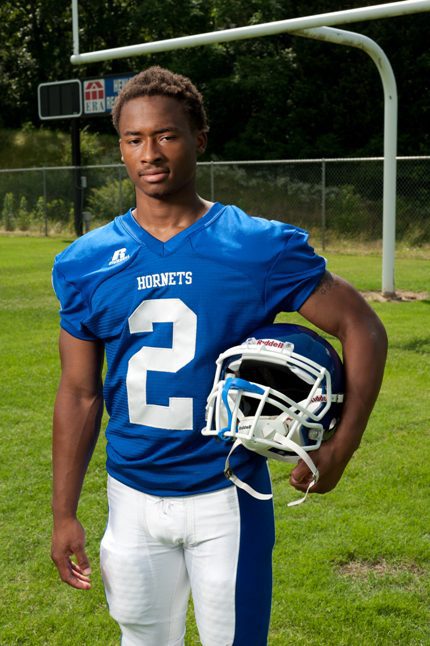 05 Nov 2014

Hornets football all about 'family'

by Mark Oliver


To some, the game of football is about the thrill of competition. To others, perhaps it's about the taste of victory under the Friday night lights.

For Bryant senior running back Brushawn Hunter, football is more than just a game — it's family.


"At Bryant, we're a big family," Hunter said. "We're a brotherhood. We call each other 'OTF' — only the family. We do everything together and that's our biggest strength as a team."


Hunter was selected to this year's 501 Football Team — 24 players representing all 11 counties of the 501. The team boasts the best the 501 has to offer both on and off the field. Hunter was nominated by Bryant's head coach, Paul Calley.


"Brushawn is a good student and a leader on campus," Calley said. "His unselfishness and willingness to help younger players as well as his consistent work ethic make him a good teammate. He leads by example.


"He's never too up and never too down, but always competing to the best of his ability."


Originally from Louisiana, Hunter got his football start at a young age, with a little inspiration from his family — which boasts deep athletic roots.


"Before there was organized football in Louisiana, I played street football," Hunter said. "That's how my dad got started playing the game, too. Today, I have an uncle that plays wide receiver at Arizona State, a cousin who also plays at Arizona State and another cousin who plays point guard for Texas A&M women's basketball. We're a pretty athletic family."


Through the years, Hunter has faced his share of challenges on and off the field. Tragedy struck in 2013 when Hunter's mother, Larisa, lost her battle with cancer.


"After my mother died, we played El Dorado for the conference championship," Hunter said. "It was just one of those games where you're there, but you're not. I couldn't focus. I was scatterbrained. I started playing sloppy and apologized to my team and told them that wasn't who I was."


When Hunter was at his lowest, his Hornet family swarmed around him and lifted him up. Together, they made the comeback against the Wildcats. The game remains one of Hunter's favorite football memories today.


"We ended up winning the game," Hunter said. "Even though I was down, my team picked me up. They came to me and said, 'We're here for you. We know we can do this.' And we did."


Ever since that game, Hunter saw the game in a different light and began playing with new motivation.
"My new sense of purpose is even though I might not catch a ball or I might miss a play, I know that my teammates are going to pick me up and tell me that they still believe in me and they know that I can do it," Hunter said. "No matter what happens on the field, I know that my mom would be proud of me."

Hunter endured another hardship in 2014. During the first week of the season, the senior sustained a fractured foot and has had to watch most of his senior season play out from the sidelines.

"Brushawn broke his foot in the fourth quarter of the Salt Bowl, after breaking a 50-yard run to get us out of the shadow of our own goal line," Calley said. "He tried to play again in week five against Little Rock Catholic but couldn't push off his foot and finished with one carry. An MRI later revealed a Liz Franc fracture, and he had surgery last Wednesday to repair it."

Despite the challenges he's faced at a young age, Hunter gathers strength from his faith and family.

"Brushawn has faced much adversity in his life," Calley said. "He has been strong for his family, and his faith in God has allowed him to continue to excel."

With an 8-0-1 record through the first nine weeks of the 2014 season, the Hornets are primed for a showdown against the undefeated Conway Campus Cats with the 7A/6A Central conference championship on the line. Even more at stake is the Hornets' chance at a first round playoffs bye and a round two home playoff game. Faced with the team's biggest challenge of the year, Hunter says anything can be accomplished if done so as a family.

"To get there, it's going to take our family being there," Hunter said. "It's going to take all people doing their part. Leadership from the coaches and the position players. It will take hard work ethic and dedication."

No matter the outcome, Hunter says Bryant will be a team to watch out for in the Class 7A/6A state playoffs this year.

"For the past couple of years, we've just been wanting to win the conference," Hunter said. "This year, coach Calley is wanting to win a state championship. He says it's time to change the program around. It's time to go for the gold."

Off the field, Hunter runs track and field at Bryant and is involved with Fellowship of Christian Athletes. His hobbies include science class and playing the guitar at Indian Springs Baptist Church.

"I love God," Hunter said. "He is the reason for the season. Everything I do in this life, I do for God."

After high school, Hunter would like to play football at the collegiate level and has already received offers from Henderson State University and Ouachita Baptist University. Academically, Hunter plans to pursue a degree in art or coaching.

"Brushawn is proud to be a Hornet and has many friends outside of our football family," Calley said. "He is a member of Teachers of Tomorrow and helps perform community service projects with his church. He is a good student, a leader on campus and has always been a great ambassador for our school."

Bryant plays host to Conway at 7 p.m. tomorrow.