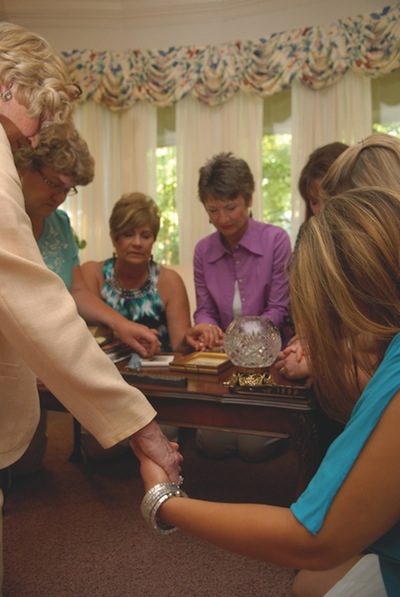 21 Jun 2011

Hope & Prayer: Murders lead to prayer group

Posted at 6:32 PM

in

Faith

by Sonja J. Keith

Out of tragedy came hope and prayer for a special group of women in Conway.


In 2002, the families at Shady Valley subdivision in West Conway were rocked when their neighbor, Carter Elliott, and his friend, Timothy Robertson, were shot to death in Elliott's home.


Dorothy Robins recalled that she and her husband, Frank, were returning from an out-of-town trip when they saw a large group – many of them neighbors – gathered not far from their home. "We saw all the people . . . It was awful."

Dorothy did not know the victims although she recalls occasionally talking to Elliott on one of her daily walks. "That very night we said we need to pray for our neighborhood," she said. "That started the prayer group."
Those living in the area were anxious, not knowing whether it was even safe to allow their children to play outside. "That's a shock for any neighborhood."
Dorothy contacted then police chief Randall Aragon who explained at a neighborhood meeting that by the nature of the homicide officials did not suspect it was a random act or the work of a serial killer. "He came and talked to us and tried to be very reassuring," she said. "It calmed people down, and everybody felt better about it, but it took awhile."
Almost immediately, four women in the neighborhood – Dorothy, Debbie Eckert, Adair Howell and Pam Glover – began meeting at 6 a.m. every Thursday to pray. Dorothy volunteered her home, and the early hour was chosen to accommodate members who work. The group meets for about an hour.
All Christians, the women represent different denominations, including Catholic, Methodist and Baptist.
The group – called the Shady Valley Prayer Group – grew to seven with the addition of Christie Madden, Cindy Hendricks and Gayla Grace, who will be moving to Louisiana. "The circle is not broken, it just extends to Bossier City. We've had some to come and some to go, but all of the charter members are there."
With a cup of coffee in hand, the women gather for a brief devotional given by Dorothy, and they open in a prayer of thanksgiving. Each member offers prayer requests, some of them personal and some that have been submitted from others in the neighborhood or the community. The group then lifts those requests in prayer. "We also pray for our neighborhood, town, state, country and world."
The group typically does not meet after school dismisses for the summer, reuniting after Labor Day. "We do get together a time or two in the summer."
The group has been meeting for eight years, and members have shared many personal experiences. Some have been sad occasions, including the deaths of loved ones, and others have been joyous, including the arrival of children.
"God is the one who brought us together," said Debbie. "Prayer is the uniting force."
The group is open to anyone in the neighborhood. Dorothy said on one occasion a gentleman showed up at her home during the prayer group meeting. "He had a need, so we prayed for him."
If other neighborhoods are interested in forming similar groups, Debbie points to four factors that have worked well for the Shady Valley prayer partners – continuity, confidentiality, location and timing. "There's a tremendous love that has developed between us," she said. "It's just been a blessing."
While no one has been officially charged in the murders that led to the creation of the prayer group, Dorothy said the group feels that someone will be held accountable for it. In the meantime, the group continues to meet and pray.
"I think it will go on as long as the circumstances allow," Dorothy said. "I think the dedication and commitment are there."