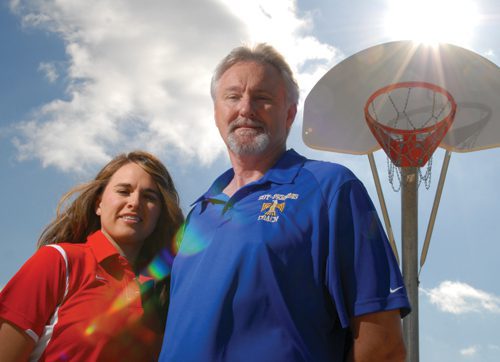 20 Jun 2010

Hoop team

This time, neither the legendary John, who has won nearly 1,700 games and 10 state championships at Guy-Perkins, nor his daughter, Ashley Nance, who won her first state title in March during just her second year of coaching for Conway Christian, was involved as an All-Star coach.

So they got some quality relaxation time as well as — of course — more basketball in the AHSCA Coaching Clinic.

Nance was recently hired to succeed Janet Taylor with the Conway High Lady Cats.

John Hutchcraft figures he's had the best of all worlds, coaching three children through basketball at Guy-Perkins.

Charlotte, now 32, was the first. She played on a couple of state runner-up teams for the Lady T-Birds. She's now in Atlanta and hopes to eventually coach, John said.

Jason, now 31, was next. He led the Thunderbirds to the 1997 state title. Recently graduated from Central Baptist College, where he spent three seasons as the men's basketball coach, he, too, plans to pursue coaching.

Ashley, 25, was the baby. She led the Lady T-Birds to state titles in 2001, '02 and '03, earning MVP awards every year. After finishing her degree at the University of Central Arkansas, she spent one season assisting her father before moving out on her own at Conway Christian in 2008.

Looking back, Hutchcraft, prone to the occasional sentimental moment, pronounced it good.

"I wouldn't have traded it for anything," said the man who coached one year at Grubbs (Jackson County) and another at Hazen (Prairie County) before arriving at Guy (Faulkner County) in 1979. "I've been blessed so much. I've had three kids; I went to school with each one of them for five years. They all played basketball for me in a small-school atmosphere.

"It couldn't have been any better."

Hutchcraft's record is an astounding 877-231 with his boys and 820-172 with his girls (1,697-403 overall). His teams have played in 20 state finals and are 10-10.

"Some people have asked why didn't I go to a bigger school, but why leave when everything's going good and you're coaching your kids in a small-school atmosphere?" he said. "I can't think of a better place I'd rather have been than at Guy."

And Nance can't imagine doing anything besides coaching basketball for a living.

"It was just always there," she said. "I just grew up around it."

She fondly remembers all those times with her father on the court and off.

"I would say we're as close as any father-daughter could possibly be," she said. "Starting, I guess, in seventh grade, I went to Guy-Perkins, and my parents always lived in Conway, so I rode to school with him every day."

He coached her in basketball through high school and also in AAU play.

"Of course, with his success as a coach, he's my mentor," she said. "So first and foremost, he's my dad, but if I have questions, need advice, something to run by someone, he's the first one I call."

And although he's pushed her to give her best to whatever she chooses to do, the pressure has never been too much, she said.

"Even when he was my basketball coach, it was never over the line," she said. "We can talk about other things than basketball. We enjoy doing stuff together. We go hunting together, fishing together. It's just a really neat bond that we have."

Hutchcraft agreed they'd been extremely close, but he said they were no closer than he was with his other children. Each got those quality years with him riding back and forth from Conway to Guy-Perkins.

But one special Ashley story he tells goes back to when she was in fifth grade, before she became a Lady T-Bird legend. Guy was in the final of the state tournament at Barton Coliseum in Little Rock, leading by about 10 points with three minutes to go.

"And Ashley was sitting on the bench with me, and she knocked the cooler full of water over and it went all out on the floor and they had to stop the game and get the mop," Hutchcraft remembered. "She took off running for the dressing room. The other team came back and we got beat, and I always tease her about that.

"After she won that third state tournament (in 2003), she told me, 'We're even now. I cost you one, but now I've won you three.'"

After earning her degree from her father's alma mater (her Sugar Bear basketball career, like her sister's, ended prematurely with an injury), she went to work for her father and was the heir apparent to replace him when he retired. But she said she always wanted Guy to be home for her, and she knew that whoever replaces her father there will have a difficult time following the legend. So she listened when Conway Christian came calling. Her arrival coincided with CCS's move to the Arkansas Activities Association.

Her first game as a head coach was against her father and alma mater. She called it "absolutely the best and worst idea we've ever had."
Conway Christian led comfortably for most of the game, but the Lady T-Birds pulled within five points midway through the fourth quarter. Nance knew they'd make a run, and her team adjusted to win, 63-51.

But she didn't enjoy the experience.

"I've always heard people talk about how it doesn't feel good coaching against John Hutchcraft, and I know what they mean," she said. "I'd always been on his team, and I didn't feel real comfortable where I was. It was so emotional."

Hutchcraft agreed that they thought it was a good idea at first.

"But as it got closer, it was nerve-wracking," he said. "I wouldn't say we'll never play again, but I think the pressure would be on now if we played."
Nance, on the other hand, said she was done.

"Never again," she said.

If that holds, she'll be one of the few coaches to have a career winning record against Hutchcraft.

"I don't think I'll ever get as many state championships as he has, so I've got to win something," she said, chuckling.

Nance's first CCS team finished 19-7. Hutchcraft said he knew, based on that and what she had returning, the Lady Eagles would contend for a state title in just their second season of AAA-sanctioned play.

"I kind of expected her to win one," he said. "She plays up-tempo basketball, and I knew she had a good shot midway through the season when she beat Cabot and Vilonia. By about Christmas, I knew she had a real good shot at it."

And he didn't tiptoe around the subject with his daughter.

"We talked all the time about it," he said. "We talk two or three times a day, and most of the time it's about basketball."

The Guy-Perkins boys team played Bay in the Class 1A state semifinals the night Conway Christian's girls won their afternoon Class 2A semifinal over Wickes to earn a trip to Hot Springs for the state finals.

"My manager came in before the game and told me Ashley had just won her semifinal game," Hutchcraft said. "We talked as a team about how important it was to win that game because we really wanted to be able to go to Hot Springs with Ashley. We led the whole game but lost at the end (58-54).

"But I did get to relax and watch in the stands, and that was great, too."
Nance's sister and brother were also there to watch as the Lady Eagles beat Conway's St. Joseph, 52-42, to finish the season 29-5.

The coach was just 24.

The AAA's Wadie Moore, who has covered high school sports in the state since 1968, said he could not think of anyone younger than 24 who had coached a team to a state basketball championship.

"But going back to the early days of the state championships, many of our coaches, because of the wars, did not have degrees and stepped in to coach the high school athletes at a very young age," Moore said. "(So) it is possible that someone under 24 has won a state championship."

But not her storied father.

"She was living in his shadow for her short career, and to win one (that young), she was happy that she beat him in something," Conway Christian athletic director Chuck Speer said. "She won one quicker than he did."

After a few months to digest her accomplishment, Nance said she was even more in awe of her father than she'd been before.

"I have so much respect for him, knowing how hard it was," she said. "How did he do this? How did he go from one year to the next? It's just eye-opening. And so

it's just more of a respect. It just really opens my eyes to how good he really is as a coach."

Hutchcraft has begun to think of retirement, and once that day comes, he'll still have plenty of basketball to watch.

"I'd like to see two of my kids play each other," he said. "That would really be something. I would like to be able to coach against Charlotte and Jason one time before I quit. You know, basketball coaches' kids, most of the time, play basketball, and band directors' kids play in the band. That's the way it works."

He said when someone said something to Nance about her lack of experience as a head coach, she responded with the perfect answer.

"She came back and said, 'I have years of experience. Basketball has been my whole life with my dad.' She has lots of experience," Hutchcraft said.

And the pedigree to match.