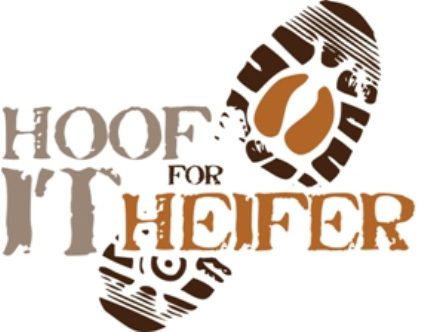 16 Mar 2016

'Hoof it for Heifer' on April 9

The "Hoof it for Heifer" 20K Trail Run will be held 8 a.m. Saturday, April 9, at Petit Jean State Park.


The 12.4-mile run, benefitting Heifer International, will provide awards for the overall male and female finishers, as well as T-shirts for all runners. (When choosing a T-shirt size, keep in mind that the shirts are of a technical fabric, and come in men's and women's sizing.) Sizes cannot be cannot guaranteed after Thursday, March 31.


Due to moderately difficult terrain, this race is recommended for experienced trail runners. Of the 12.4 miles, .8 mile will be run on pavement in the park and approximately 12 miles will be run on the Winthrop P. Rockefeller Boy Scouts Trail, including one possible creek crossing (depending on rains). The trail will be marked with white blazes and white flags. Visit petitjeanstatepark.com/thingstodo/trails/default.aspx?trailID=152 to see the trail map.


Two staffed aid stations will be on the trail at approximately 4.3 miles and 8.9 miles. The following items will be available at aid stations, but carrying at least one bottle of water is also recommended: water, Gatorade, Coke, Mountain Dew, chips, cookies, crackers, candy, dill pickles, peanut butter and jelly sandwiches, bananas and oranges. Pain relievers will not be supplied at aid stations. Grilled hot dogs with trimmings will be available to all of the runners after completion of the race.


Registration for the race will close on Sunday, April 3, or when the 200 runner limit is reached. There will be no race day registration or refunds. To register, visit heifertrailrun.com/registration.html. Racers can pick up their race packets from 2 to 5:30 p.m. Friday, April 8, at The Sporty Runner in Conway, or at check-in on April 9. On the day of the race, check-in will be held at Petit Jean State Park starting at 7 a.m. in Pavilion A, located in the picnic area. All runners must check in before the race begins.


Entry fees:
• Entries made after Feb. 1: $50
• Entries made after March 20: $55


The trail run is organized by the Central Arkansas Volunteer Group based in Conway. All proceeds will go to Heifer International, a non-profit, humanitarian organization dedicated to ending hunger and poverty by providing livestock and training in environmentally sound agriculture to those with genuine need.


To learn more about Heifer International, visit Heifer.org.


For any questions about the race, Central Arkansas Volunteer Group, volunteering or Heifer International, email [email protected]. To contact race director Wanda Eason, email [email protected].