27 Sep 2023

Holmes moves into first at Golfweek Red Sky Classic

WOLCOTT, Colo. – Day two of the Golfweek Red Sky Classic saw a terrific outing for junior Madison Holmes, who vaulted into first place with one of the best rounds of her career. The Paragould, Ark., native powered her way down the stretch to move into a tie for the top spot headed into Wednesday's final round.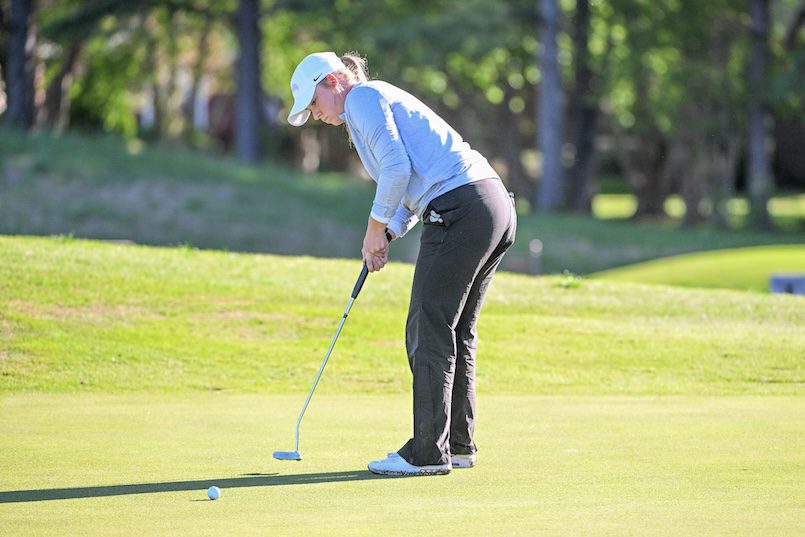 Holmes shot a 2-under 70 on Tuesday, adding four birdies to her total to move up nine spots. The junior recovered wonderfully after a bogey on the first hole, staying at or below par for the next 15 holes in a row. She heads into the final round with a two-day score of 141. Valeria Ramirez joined Holmes in upward movement up the ladder, climbing 11 spots with a 4-over 76. The sophomore tallied three birdies in her second round, and closed the round with par or better on the final four holes.
Camila Moreno turned in her scorecard Tuesday with an 80, ending on a strong note with a birdie on 18 to pick up some momentum headed into Wednesday's final round. Pim-Orn Thitisup shot a 6-over 78 to round out a two-day score of 157, and Ayami Takahashi added a second-round score of 84.
Pepperdine continues to lead the pack, and is now the only team under par. High Point moved up into second place, and New Mexico State added itself to the top-three. Central Arkansas is four strokes away from fourth place after maintaining eighth place after Tuesday's round. Individually, the field saw a lot of movement in the top three, with Holmes making the push into first place, tied with New Mexico State's Alison Gastelum. High Point's Julia McLaughlin and Wofford's Bella Kent are tied in third place, back one stroke of the leaders. All four players that are tied for the top-three spots moved up the rankings after Tuesday's play.
The field has one more round to play, with 18 more holes on Wednesday wrapping up the Golfweek Red Sky Classic.
Full individual and team standings are available at the tournament page on GolfStat.