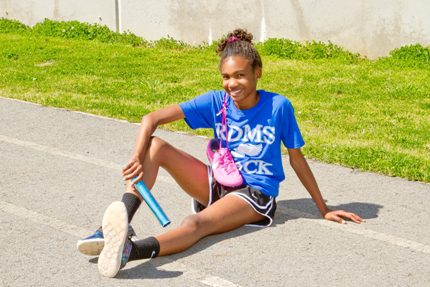 10 May

Holloway breaks track records

Madison Holloway, a seventh-grader at Ruth Doyle Middle School in Conway, set high goals for herself and teammates at the beginning of this year's track season.

Those goals were met, along with others, resulting in her breaking five school records.


Holloway broke the high jump (4-10), long jump (16-00.50), triple jump (31-11), 100M hurdles (17.30) and ran the first leg of the 400M relay team that set a record (55.65).


Madison is not new to running track as she started competing in AAU track when she was 8 years old. Her talents and drive to be the best led her to the Junior Olympics twice with her bringing home a medal in the long jump. She aspires to make it back one day to stand on the podium again.


Holloway was asked to step up and compete in the Junior High Conference meet this year, where she placed second in the hurdles and had her best long jump of the season.


Her mom and coach at Ruth Doyle, Rhonda Holloway, said, "No one knows how hard Madison trains after school and weekends to excel in track and volleyball. She has a passion and love for both. I believe she has a great future in either sport. I am most proud that she excels in the classroom as well as on the track and on the court."


Madison will be back in action trying to get to the big stage again at the Junior Olympics this summer by running track with the Arkansas Heat AAU team.