It's "Over the River and Through the Woods" for the 2008 Arkansas Trail of Holiday Lights.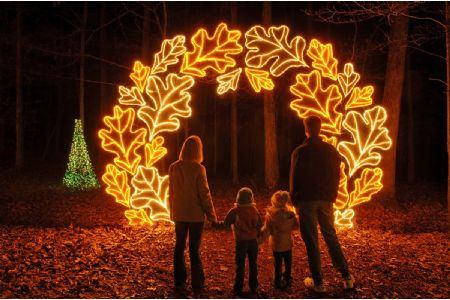 With several great stops in the 501, you'll want to gather the family and head out for a night of amazing holiday lights, a parade or two and of course, Santa.
Little Rock Take part in Little Rock's Big Jingle Jubilee Holiday Parade Saturday, Dec. 6, ending in front of the State Capitol. Following the parade, stay for the Capitol Lighting Ceremony featuring fireworks, music, children's activities and more.
North Little Rock's "Hometown Holidays" celebration will include a drive-thru light display in Burns Park, 6-10 p.m. Monday, Dec. 1, through Tuesday, Dec. 30. Admission: $5 per car.
Conway Downtown Conway will be ablaze with more than a million lights. Plus, you can enjoy the holiday Festival of Light each night, Thanksgiving Day through Saturday, Dec. 27. The event, featuring a drive-thru light display, indoor model train display and a variety of entertainment on scheduled evenings, is held at First State Soccer Park located off of Dave Ward Drive.
Jacksonville will begin celebrating the Christmas season with the Holiday Lighting Ceremony 6:30 p.m., Thursday, Dec. 4, at Jacksonville City Hall. The 51st Annual Christmas Parade will be held at 1 p.m. Saturday, Dec. 6, in downtown, where Santa will make his first appearance.
Sherwood will host its Christmas parade at 2 p.m. Sunday, Dec. 7, along Kiehl Avenue. Drive through the Enchanted Forest at 1111 W. Maryland Ave. The trail includes over 60 lighted displays along a secluded, tree-lined road. This drive-thru extravaganza is 6-9:30 p.m. Monday, Dec. 1, through Tuesday, Dec. 30. Admission is free, but donations will be accepted.
Searcy lights it up at 6 p.m. Saturday, Dec. 6, with the Holiday of Lights Christmas Parade in Downtown Searcy. Berryhill Park will be adorned with beautiful, twinkling lights, with a horse-drawn carriage to take visitors through the park. Thursday, Dec. 4, through Sunday, Dec. 7, and Thursday, Dec. 11, through Sunday, Dec. 14, visitors can enjoy a drive-thru "Living Nativity" at Benton and Cloverdale. Admission is free.
Heber Springs On Saturday, Dec. 6, the Light Up the Park Christmas Parade begins at 6 p.m. and ends with Santa, music and lights in Spring Park. Snowflakes line Main St., and 500 luminaries will glow throughout the park and around the lighted historic Cleburne County Courthouse. A live nativity scene is planned on the east side of Spring Park.
Hot Springs From Tuesday, Nov. 25, until Thursday, Jan. 1, visit Christmas Lights on the Arlington Lawn. From Saturday, Nov. 22, through Wednesday, Dec. 31, check out Lights on the Landscape at Garvan Woodland Gardens. For family fun, take everyone Ice Skating in the Park at Hill Wheatley Plaza from Wednesday, Dec. 3, through Saturday, Jan. 3. Friday, Dec. 5, brings the Gallery Walk, and 9 a.m. Saturday, Dec. 6, is the Christmas parade.
Saline County/City of Benton At 6 p.m. Monday, Dec. 1, the Saline County Celebration of Lights will begin the holiday events with the Benton Hometown Christmas Parade. Afterward, Santa will visit children at the Saline County Courthouse gazebo from 7-9 p.m. Free cocoa and cookies will be served during Santa's visit, and local talent will perform on the courthouse square.
For complete details and a map of the Arkansas Trail of Holiday Lights, visit the Arkansas Department of Parks and Tourism web site at www.arkansas.com.