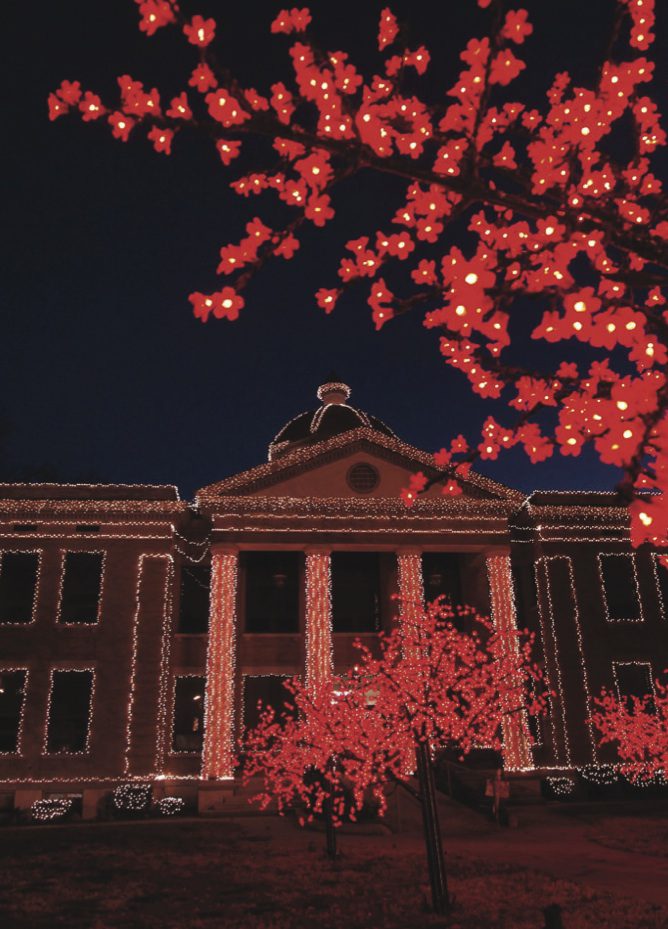 17 Nov

Holiday happenings

The Village at Hendrix plans Bethlehem House Holiday Tour of Homes

The Village at Hendrix is partnering with Bethlehem House, a homeless shelter in Conway, to present a holiday tour of homes.

The goal of the event is to help Bethlehem House reach its capital campaign goal of $1.5 million to build a new shelter. Two foundations are offering matching funds so with every $10 event ticket sold, $30 will be raised. In addition, Modern Woodmen of America has offered another matching opportunity with a pledge to donate up to $2,500.

The holiday tour will kick off with a preview night from 6:30 to 8:30 p.m. Friday, Nov. 30. Decadent holiday treats are planned with an evening tour of approximately eight homes. Tickets cost $30 and include a run of tour opportunity.

The tour is planned 1 to 5 p.m. Saturday, Dec. 1, and 1 to 4 p.m. Sunday, Dec. 2. Tickets are $10 in advance and $15 at the door.

For more information, please contact Beth Tyler at [email protected] or 501.730.5048.

Holiday program helps seniors struggling with poverty, loneliness

"Be a Santa to a Senior," the popular campaign that in 2011 delivered more than 200 gifts to local needy seniors, is planned again this holiday season as older adults continue to face poverty and loneliness.

The area office of the Home Instead Senior Care network, the world's largest provider of non-medical in-home care and companionship services for older adults, is joining Conway Regional Medical Center and local senior-care agencies and non-profit organizations to provide gifts and companionship to seniors who otherwise might not receive either.

"Seniors faced with medical bills and the high cost of living can find they have little left at the end of the year," said Dan Fry, owner of the Home Instead Senior Care office serving Pope, Conway, Faulkner, Perry, Van Buren and Cleburne counties. "That's not the only issue, though. Personal needs may become magnified for so many living alone with no one to share their problems."

According to the U.S. Census Bureau, 9 percent of U.S. seniors 65 and older are living in poverty and 27 percent are widowed.

Here's how to help these struggling seniors:

Pick up ornaments with the first names of seniors and their gift requests from Christmas trees, which will be up at Conway Regional Medical Center through Monday, Dec. 10.

Buy items on the list and return them unwrapped to the hospital, along with the ornaments attached.

A community gift-wrapping event, when hundreds of the presents will be wrapped, will be held 3 p.m. Monday, Dec. 17, at the Conway Senior Wellness & Activity Center.

"Helping a needy older adult can bring fulfillment to the giver as well as the receiver – it does make a difference," Fry said.

For more information about the program, visit beasantatoasenior.com or call 888.764.1814.

Plans set for Greenbrier parade

"Christmas Bells Are Ringing" is the theme of the 2012 Greenbrier Christmas Parade scheduled 6:30 p.m. Thursday, Dec. 6.

The 17th annual parade features a longer route, which begins at Eastside Elementary School and has been extended to include Sagebrush Cove subdivision.

Randy Tribble, coach of the Greenbrier High School football team, has been named this year's grand marshal.

Festivities get under way with the sixth annual Lions Club Chili Cook-off from 5 to 6 p.m. at the Greenbrier City Event Center.

A tree-lighting ceremony is planned immediately after the parade and Santa will be on hand.

Events are being coordinated by the Greenbrier Lions Club, the Greenbrier Chamber of Commerce and the City of Greenbrier. For more information, contact Verna Higgins at 501.472.7083 or the Greenbrier chamber at 501.679.4009.

Parades in the 501
The 55th annual

Jacksonville Christmas Parade

is scheduled 1 p.m. Saturday, Dec. 1. For more information, call 501.982.4316.

The Saline County Celebration of Lights will kick off with the community Christmas parade at 6 p.m. Tuesday, Dec. 4. The event will feature the official lighting of the county courthouse, free pictures with Santa and holiday entertainment. For more information, visit salinecounty.org.
The Morrilton Christmas Parade

– hosted by the Morrilton Area Chamber of Commerce – is planned 5:30 p.m. Thursday, Dec. 6. This year's parade theme is "Red, White and Blue Christmas" and will take place in Downtown Morrilton. For information on the parade, call 501.354.2393 or stop by the Chamber office at 115 East Broadway. There is no fee for parade entries and awards will be given for the best entries in several categories.

The Cabot Christmas Parade

– sponsored by Cabot City Beautiful – is planned 3 p.m. Sunday, Dec. 9. The theme is "It's a Dr. Seuss Christmas!"

The deadline for entry is Saturday, Dec. 1.

For more information, call 501.920.2122 or visit cabotparks.com.