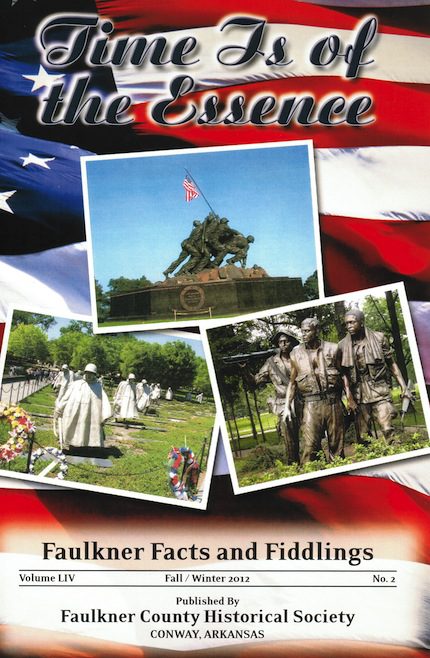 15 Oct 2012

Historical Society Journal honors veterans

Posted at 8:19 PMh

in

News

The fall-winter issue of "Faulkner Facts and Fiddlings," a semi-annual journal published by the Faulkner County Historical Society, is ready for purchase.

The current issue commemorates Veterans Day and specifically centers around poignant war remembrances of county veterans. Several are personally written by those who are now deceased, while others were interviewed in recent months.


Veteran stories are by or about Homer Hoffman, Johnnie Walter, Marie Hiegel Pinter, H. P. Barham Jr., Al Hiegel, William T. Mattison, Doyne Montgomery, Hubert L. Tucker, Larry Yarbrough, Tony Nahlen, Curtis Breeden and brothers Leon and Billie Hazel. A number of photos and documents accompany their personal accounts.


Also included are articles about war bonds and rationing and wartime recipes; military training on the Hendrix College and Arkansas State Teachers College (now University of Central Arkansas) campuses; the Tuskegee Airmen; and the Gold Star Mothers organization and a poem by Ron Spradlin.


A special article focuses on the Honor Flight Network which provides World War II veterans with free flights to Washington, D. C., to see the National World War II Memorial, dedicated in 2004.


"The time seemed right to do this," said editor Vivian Hogue. "We are grateful to those who answered the call for stories and photos as they are first-person accounts either by interview or from personal diaries."


Rebekah Bilderback, a teacher for the Greenbrier School District, said, "This special edition will be an invaluable resource that is relevant to students. I am looking forward to adding this to my collection of primary documents."


Hogue added, "Those of the WWII era are often called 'The Greatest Generation' in America's history. Citizens of that time still remember the unity of purpose. They credit the bravery of military men and women, strong allies, patriotism, spiritual belief and sacrifice at home for our victory in war. Whether the hardship was at home, in business or in battle, they still say they did what they had to do to help the country's war efforts." 


The journal will be available for a special edition price of $10 at the Faulkner County Museum on the courthouse square and at the Faulkner County Regional Library at 1900 Tyler St. Museum hours are 9 a.m. to 4 p.m. Monday-Thursday. Library hours are 9 a.m. to 7 p.m. Monday -Friday; 9 a.m. to 5 p.m. Saturday; and 1 to 5 p.m. Sunday.


The society also offers its 1986 book of county history, "Faulkner County: Its Land and People," for sale on compact disc. It requires Adobe Reader, which is free and available at the Adobe website. The cost of the disc is $15, which includes shipping and handling.


Checks may be made to FCHS, P.O. Box 731, Conway, AR, 72033.


The historical society was founded in 1959 at which time it began its first issues highlighting people, events, locations and customs in Faulkner County history. Judy Corcoran is assistant editor.