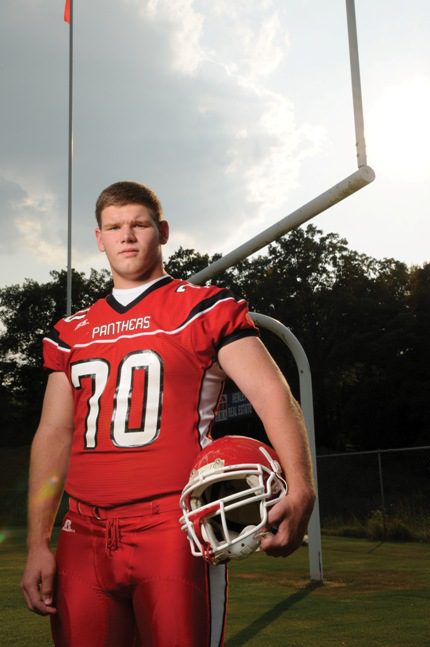 30 Oct 2013

Hills, Panthers ready for showdown with Clinton

by Mark Oliver


At a young age, Heber Springs senior Nate Hills always knew he was meant to play football.

"My dad played the game," Hills said. "My brother played a little bit, too. I always watched games on TV as a kid and thought to myself 'Man, that's going to be me one day.'"


As soon as he suited up in fourth grade, Hills learned something else: anytime Heber Springs played Clinton, it was a big deal.


"It's the only match-up where I've seen the parents get heated during peewee games," Hills said. "There's trash talk, both towns get involved, it's exciting."


Hills was nominated by coach Steve Janski and selected for this year's 501 Football Team.


"Nate has great work ethic, is very unselfish and has a great heart," Janski said. "He thinks of his team first and will be an all-state player."


After dropping the first five games of the season, the Panthers (2-6, 2-3) have clawed their way back into postseason contention. With both Heber Springs and Clinton currently tied for the fifth and final playoff spot from the 2-4A conference, the stakes in Friday's (Nov. 1) rivalry game are higher than ever.
"We are excited to play Clinton," Hills said. "Every year we look forward to them. We beat them like a drum last year, and I will do everything I can for my teammates to help us get to the big show."

Each season, the goal for Hills and the Panthers remains the same.

"On our field house it shows all the Heber Springs teams that made it to the playoffs," Hills said. "There are two teams that have made it to the quarterfinals. Our senior class wants to be up there with them. We want to at least make it to the quarterfinals."

In school, Hills is active in Beta Club, Future Business Leaders of America, Spanish Club and Art Club. He is also active in the school's track program, throwing shot put.

"If we have it, I'm in it," Hills said. "I'm very involved."

In his community, Hills volunteers for Heber Springs Christian Church and has recently added a big achievement to his resume — becoming an Eagle Scout.

"For my Eagle Scout Service Project, I landscaped a roundabout in our town," Hills said. "I had to talk to the city council to get it approved and organize the guys to get it done. There were quite a few steps, but I had a lot of people help me along the way."

"Nate provides a great service to our school and community through service projects," Janski said. "He has a great personality."