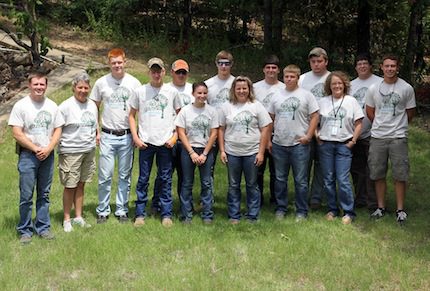 28 Aug

High school seniors take week-long conservation journey

What do 35 counties, three state parks, one national park, three conservation education centers, two nature centers, four wildlife management areas, one commission meeting and 11 high school seniors have in common?

All were elements of the first annual Youth Conservation Institute held recently all across Arkansas.

YCI is a competitive, merit-based, week-long journey into Arkansas's conservation story and serves as a springboard for conservation-minded teens who want to make an impact on the community in which they live. Participants were selected from a state-wide pool based on criteria including grade point average, letters of recommendation and proven interest in conservation and wildlife management.


Students participated in field activities that showcased the Arkansas Game and Fish Commission's management of the state's fisheries and wildlife. It also gave the participants a snapshot of possible career choices in the field of conservation. They studied Arkansas's different ecosystems by visiting the Ozark Mountains, the Gulf Coastal Plains, Delta and Crowley's Ridge.


The students went catfishing in the south and smallmouth fishing in the north. They hiked the flatlands of the plains and mountains in the Ozarks. With each experience, they learned the importance that each region plays in making Arkansas home to such a diverse population of wildlife and what must be done to maintain that population.


Personnel from the AGFC, Arkansas State Parks, Buffalo River National Park and other organizations were on hand to demonstrate on-going conservation efforts throughout the state.


Even after camping during the hot July heat, YCI students declared the experience to be the "best week of my life" and "one of the best learning experiences I have had."


Their challenge after returning home is to develop and implement a project in their own communities which will have a lasting impact on local conservation efforts.


Youth Conservation Institute attendees:


Hunter Almond – Maumelle
Seth Bickford – Conway
Austen Evers – Harrison
Travis Gray – Oden
Bailey Hankins – Ward
Jared Hett – Pottsville
Jacob Jones – Humnoke
Joe McAlee – McRae
Brody Smith – Guy
Caty Jo Spivey – Horseshoe Bend
Kaleb Wornick – Mena


For more information about Youth Conservation Institute, visit agfc.com.