31 Jul

Hidden heroes

By Dwain Hebda

There may be no more beloved identity that fans share with their favorite sports teams than the mascot. Think about it: In high school, you were more apt to identify yourself as a Tiger, a Wildcat or an Eagle than you were as a mere representative of (insert high school name here). After all, while some mascots are cute or clever, most embody the kind of strength, toughness and other noble attributes that we all aspired to, particularly during the awkward teen years. 
The word "mascot" comes from the French word mascotte, which means "lucky charm." It's hard to pin down when the first mascot as we know it today appeared, but in America, as "The Dickson Baseball Dictionary" contends, it likely dates to the 1880s. Back then, American sportswriters started taking note of a baseball team (history has forgotten which) with a batboy whose name was Chic. As "The Sporting Life" wrote in 1883, "the players pin their faith to [Chic's] luck-bringing qualities." One year later, the first animal mascot appeared when a goat started wandering around a Cincinnati baseball team's field and became synonymous with the squad and its fans.
Here in the 501, the mascot tradition is a proud one. For our cover story, we have selected a few of the well-known and best-loved standard-bearers to present their origin stories and other traditions.
As fans head back to stadiums this year, young and old alike will look forward to watching the action on the field or court as hope for a conference or state title springs eternal. Adding to that one-of-a-kind atmosphere will be the band, the cheerleaders and especially the mascot, brought to life by dedicated students willing to brave heat, cold and loss of free time to play their role, however anonymously. Here's to all of them throughout the 501, from Lions to Tigers to Bears. As we enter the new school year, may you play hard, stay safe and have fun!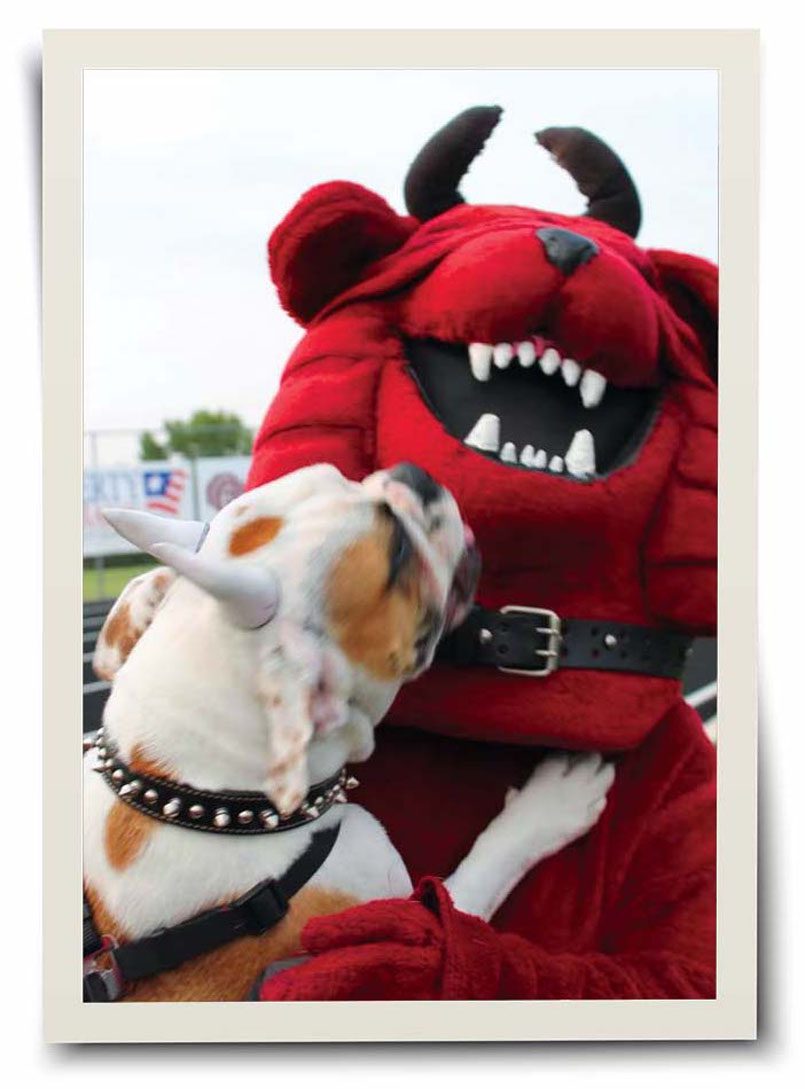 Morrilton Devil Dogs
In World War I, U.S. Marines gained the nickname Devil Dogs for their reputation for ferocity on the battlefield, specifically by the Germans who described the Corps as hounds from hell who could not be defeated. B. Jack Wilson, a Morrilton student, is credited with nominating the fearsome-sounding creature as the school's mascot in the 1920s.
The 1973 yearbook explains things further: "A Devil Dog is a maroon and gray figure with horns and teeth for fighting with all his might. The Devil Dog wears a gruff yet determined expression that radiates confidence and enthusiasm. He is strong and kind, he is stern and determined, yet he is friendly and considerate … The Devil Dog is that abstract spirit that lives in every student of M.H.S. and makes them proud and envied."
Shawn Halbrook, superintendent of schools for the South Conway County School District, said the never-say-die attitude of the mascot has not dimmed with time.
"The spirit that embodies our school district and community is the resiliency and grit to not succumb to the challenges we face," Halbrook said. "The Devil Dogs are tough and determined."
Holly Tramel, a teacher and MHS varsity senior high cheer coach, said in her 22 years, she's often seen Devil Dog spirit bring out remarkable things in the students who wear the costume.
"You have to make everything big. Your arm movements have to be big. Your character has to be big," she said. "Normally, my mascot is someone who's not involved in any other athletics, and a lot of times, those kids are the ones who don't want to be front and center. They want to be involved in school spirit, but they don't want to be seen. They're shy. They can hide behind that suit and it just brings out something totally different in them."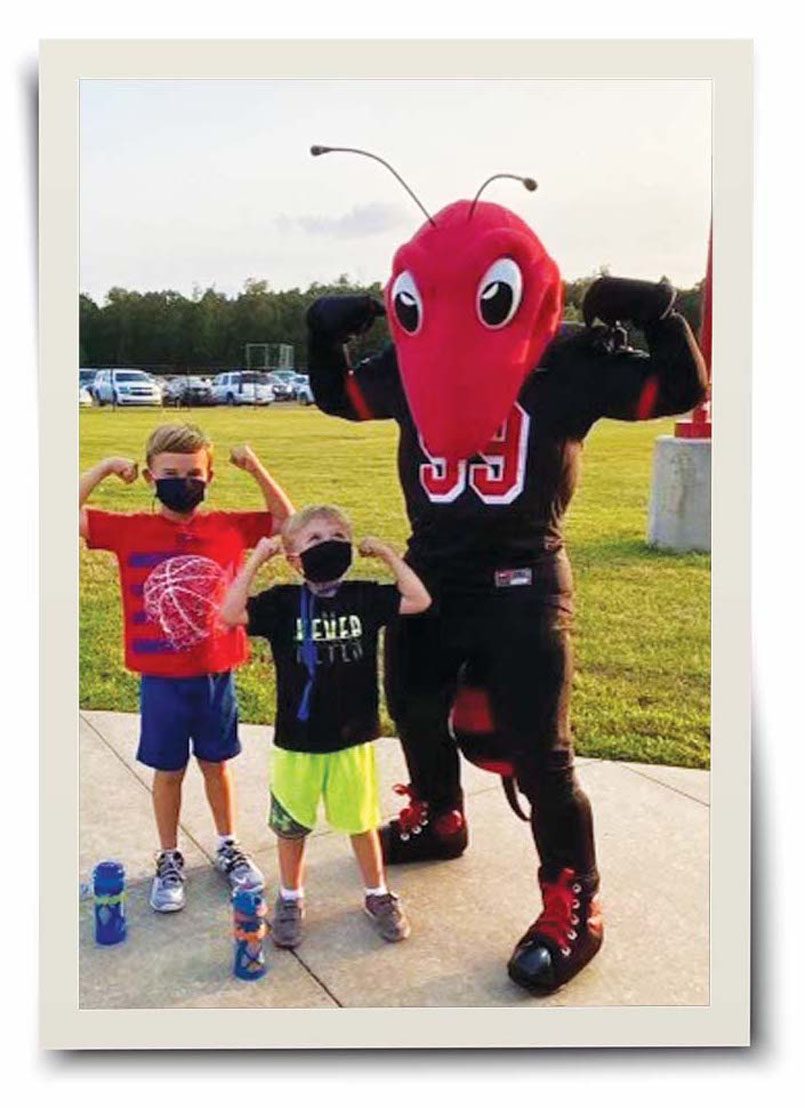 Maumelle Hornets
The emblem of Maumelle High School is an amalgam of past traditions and future glory. When the high school opened in 2011, it replaced Oak Grove High School, but it wanted to carry forward a piece of its memory. So, the new school adopted Oak Grove's Buzz the Hornet mascot, even as it chose new colors.
"There was community involvement in picking the scarlet and black colors," said Katrina Jones, a teacher and MHS spirit coach for varsity and freshman cheer, which includes the mascot. "We kept the mascot because we wanted to keep the history of Oak Grove alive, but Maumelle wanted to have an identity as a new school as well."
The tactic worked and Buzz the Hornet gets heavy use during the school year and at special events to rally community support for the high school.
"The Hornet is active at pep rallies, football and basketball games, and probably [what is] most memorable to people is we have the Hornet Swarm every year," Jones said. "It happens every August to kick off the school year, and involves everyone in the community from Maumelle and Oak Grove little league football to our feeder schools Pine Forest Elementary and Crystal Hill Elementary.
"At Hornet Swarm, we showcase all of our community and school teams. Everybody does a little performance and we end it with a football game between 8th and 9th grade teams. It's a way to bring the community together to rally and show that Hornet pride."
The mascot selection process comes in the form of tryouts and carries a mandate — absolute secrecy concerning the identity of that year's Buzz.
"Unknown. It is a secret. Nobody knows who Buzz is," Jones said. "Some people try to guess, but that mascot is sworn to secrecy. Even when they are not in uniform, they cannot tell. At the end of the school year, when the season is over, we identify them and take pictures for the yearbook. But throughout the year it is a total surprise."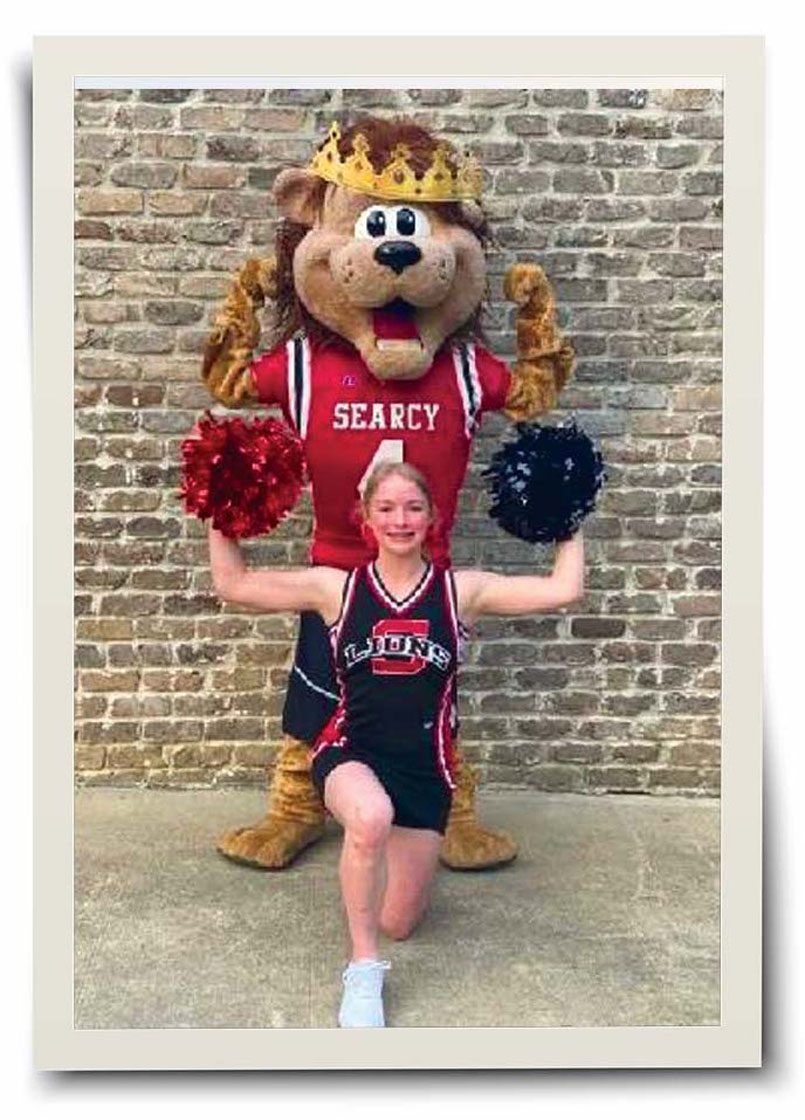 Searcy Lions
Shannon Holeyfield, who's in her first year coaching the varsity cheer squad, has taught in the Searcy School District for 20 years. In that time, she's learned to identify as a Lion, even though she's not an alum.
"I went to Pangburn High School," she said. "I grew up in the area and we're the Tigers, so at least I'm familiar with the whole cat family."
The origins of the Lion as mascot here are fuzzy, Holeyfield said, as many historic yearbooks at the school were lost in a fire. But the qualities of the regal cat are easy to apply to the high school's students and athletes.
"I think a lion is a perfect mascot — he can be respected and feared," she said. "The energy from the mascot is something we play off; lions being a safari animal, we call our gym 'The Jungle.' Even the yearbook theme was 'Causing an Uproar.'
"More than anything, the lion is the king of the jungle and one of our favorite band songs that all the kids in the student section love is 'Who is the King of the Whole Wide World?' So, we play off of that. We're the kings."
Selection for the honor of embodying the Lion spirit has been less formal in recent years. For her first tour of duty, Holeyfield polled some students as to who they thought would make a good candidate. When one name kept coming up, Holeyfield approached the student who readily accepted.
"I was aware of him and I had him in class," she said. "I knew he didn't mind making a fool of himself and he's not afraid to talk to anyone. He's goofy, creative and dependable. Since he kept coming up, I asked if he'd be interested and he was really excited. He was hoping I'd ask."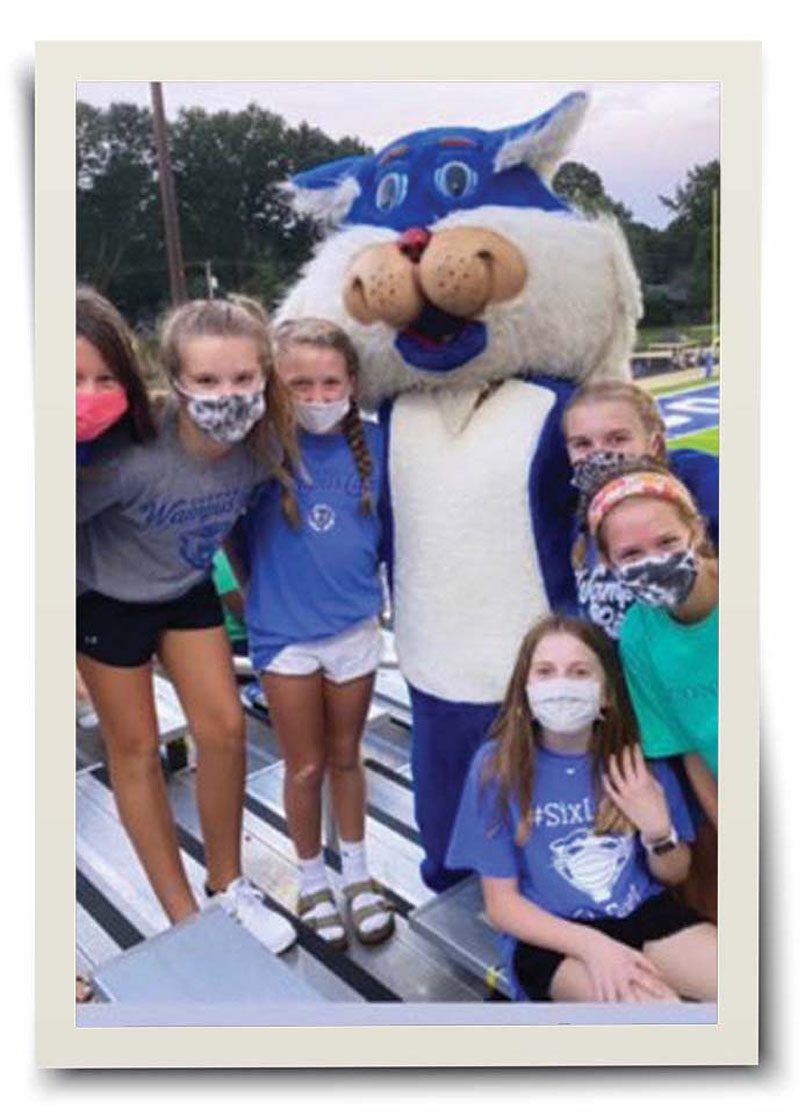 Conway Wampus Cat
Greet any current or former student of Conway High School with "Wampus Cat," and they're likely to respond with: "Four to run at the speed of light. Two to fight with all its might." It's just one of the unique traditions dating back to the 1920s that surround the mythical six-legged swamp cat.
"There's a couple other schools that have the Wampus Cat," said Jessica Smolsky, a Conway teacher who also coaches the cheer and dance squads. "Our Conway version is unique because we have the blue and black cat with the glowing eyes, the six legs, and the motto. I have friends who graduated from here who, when you say 'Wampus Cats,' they still say that sentence back."
One reason why Wampy is so ingrained is because the mascot gets around to more than just sporting events.
"Wampy's not just a high school thing," Smolsky said. "We do events like the Turkey Trot with the elementary schools. We go out and open doors and let kids out in the morning sometimes, or we'll go to little-kid pep rallies.
"Wearing that Conway shirt, you are held to a higher standard. They have to represent having goals and achieving them and making sure they're maintaining a positive role model for that school."
The program features one other twist: the identity of the student inside the suit is kept secret, sometimes for years.
"I had three of them that graduated who had been the mascot from the 10th grade and they kept that secret until we walked them out during basketball Senior Night when they were seniors," Smolsky said. "One of them was a shorter girl and I'm a little shorter, so the cheerleaders for years thought it was me. They were like, 'You're never here when the Wampus Cat's here. It's you.' So, they didn't even know."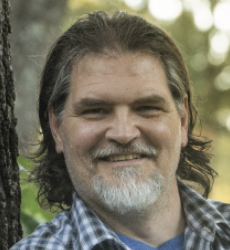 Latest posts by Dwain Hebda
(see all)