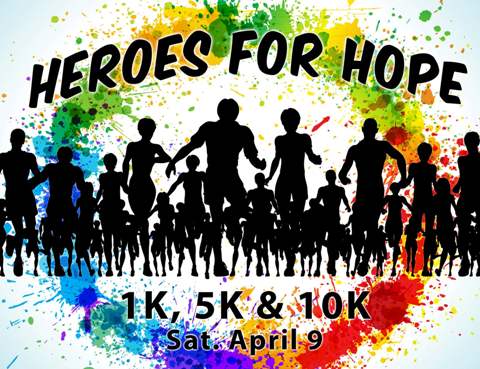 30 Mar 2016

Heroes for Hope Race set April 9 in Conway

The Children's Advocacy Alliance will host its sixth annual Heroes for Hope race Saturday, April 9, in Downtown Conway, as part of child abuse prevention and awareness month.


The event includes 5K and 10K timed races on a USATF certified course for all ages. The Heroes for Hope race is open to runners, walkers, families and corporate teams.


There is also a 1K superhero race for kids ages 10 and younger (parents can run too). Capes and tights are optional, but they sure make it more fun!


Check-in for the race will be at 8 a.m. at Simon Park in Downtown Conway. The 5K and 10K races start at 8:30.


"We have really listened to the community and past participants and this year we are excited to announce some race upgrades," said race director Karen Deaver. "New and improved customized medals will be awarded to the first through third place males and females of each age division.


"We can't wait for our participants to see our new designs!"


Paired with the race is a Kids Festival which includes an awards ceremony and costume parade on stage with prizes awarded for best costumes. After the costume contest, the Children's Music Festival will take off. It will feature local school choirs, dance teams, baton twirlers, gymnasts and cheerleaders.


Simon Park will be filled with activities for kids of all ages, including superhero appearances, a bounce house, face painting, arts and crafts, games, food, beverages and more.

Vendors will also on hand with jewelry, books, kid's apparel and other items. All activities are free; however, vendors may charge or request a donation for food, drinks and merchandise.


All proceeds benefit The Children's Advocacy Alliance; Partnership of The Children's Advocacy Center and CASA 20th Judicial District. Together, these two programs work side by side to provide hope, healing and a voice for justice for abused and neglected children in the community.


The theme of the event is "All kids need a hero. Abused kids need a superhero."


For more information, please contact Karen Deaver at 501.328.3347 or [email protected], or visit hopeandjustice.org.