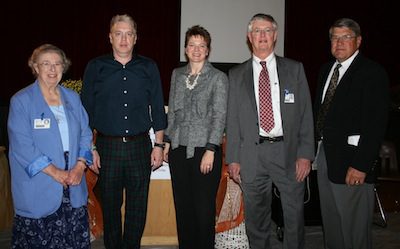 08 Nov 2011

Heritage Day Honors Employees' Service

Posted at 7:21 PMh

in

News

St. Vincent Morrilton recently celebrated Heritage Day with its annual dinner and employee award ceremony at Sacred Heart Catholic School gymnasium. More than 120 attended the event including members of the St. Vincent Morrilton board, St. Vincent foundation Morrilton board and Conway County Hospital Board.

The following were honored for their service to St. Vincent Morrilton:


Customer Service Award – Cathy Throneberry, occupational therapist was recognized for receiving the most positive mentions in patient surveys for the year.


Sister Teresa Joseph Babcock Award – Brad Doty, LPN. This award recipient is chosen by nomination and vote by employees. It is presented to an employee who exemplifies the core values of reverence, integrity, compassion and excellence exhibited by the life of Sister Teresa Joseph Babcock during her years of service with St. Vincent.


Employees honored with service awards were:


Five years – Armando Ortega, Robin Priest, Regina Taylor, Jackie Rose, Debra Garner, Traci Gill, Doylene Adair, James Riedmueller, Tonya Davidson, Tony Rappold, Penny Mutchek, Loretta Coffman, Dee Jackson, Jacquelyn Thomas and Melissa Grant.


Ten years – Matt Erion, Lydia Teague, Debra Bougher, Peggy Oliver and Cathy Throneberry.


Fifteen years – Mary Brown and Mary Shea.


Twenty years – Verna Wilson and Velma Wise.


Twenty-five years – Rita Sponer.


Thirty years – Jean Hartman and Jeanie Stracner.


"All employees receiving awards are to be commended for their hard work and dedication to the patients of St. Vincent Morrilton," said Christy Hockaday, administrator and CEO at St. Vincent Morrilton.


Honored guests for the event were Eleanor and Henry Rohlman, who owned the Greers clothing store in Morrilton for more than 30 years. Eleanor has three sisters who are members of the Sisters Religious. Two are with Sisters of Charity of Nazareth (Sister Emily and Sister Teresa) and one is with the Sisters of Notre Dame (Sister Elizabeth). Sister Emily has been a two-time member of St. Vincent Health System Board of Directors.


St. Vincent Health System attendees included Peter Noonan, vice president of mission integration; Sister Margaret Meisner, Sisters of Charity of Nazareth; and Robert Lyons, chief operating officer.


Although St. Vincent Morrilton was started by the Benedictine Sisters of St. Scholastica 86 years ago, St. Vincent Morrilton has celebrated Heritage Day the last 17 years with St. Vincent Health System and the Sisters of Charity of Nazareth. Heritage Day recalls the noble beginnings of the St. Vincent ministry in Little Rock, started by the Sisters of Charity of Nazareth in 1888. The Sisters patterned their spiritual lives after St. Vincent de Paul for whom the organization is named, sharing his commitment to simplicity, humility and service to the poor.


A delicious spaghetti and sausage dinner was served by Sacred Heart. Homemade desserts were prepared by the St. Vincent Morrilton Auxiliary.


St. Vincent Morrilton is a campus of St. Vincent Health System and is part of Catholic Health Initiatives (CHI), a national nonprofit health organization with headquarters in Denver. The faith-based system operates in 19 states and includes 73 hospitals; 40 long-term care, assisted- and residential-living facilities; two community health services organizations; and home health agencies.