19 Aug 2018

HENDRIX: Warriors hunting for playoff return

Conference: Southern Athletic
Coach: Buck Buchanan
'17 Record: 8-2

Hendrix continued building success in 2017 with and 8-2 final record, but injuries ultimately left the Warriors falling a little short, and they have high expectations again heading into the fall.

"I think that we exceeded external expectations after graduating 26 seniors the previous year," Coach Buck Buchanan said. "I would say that we were very happy to have our best record, and it was great to send our seniors out as the winningest class in school history. It was also great that we finished the season in the Top 10 in the Southern Region; however, we did not win a conference title, and we were probably just a few plays away from going back to the playoffs.

"We will not back down from our goals to win our league and compete in the playoffs in our efforts to become a nationally competitive program."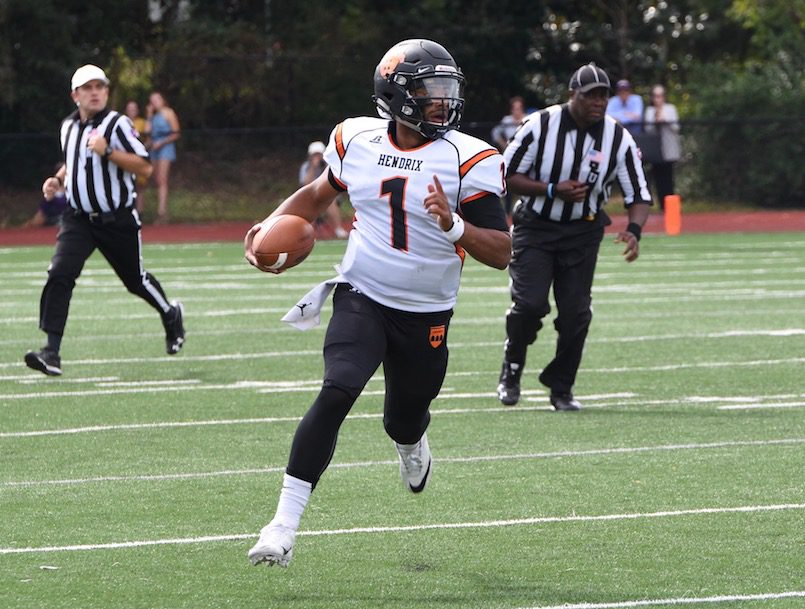 Miles Thompson returns at quarterback as the reigning Southern Athletic Offensive Player of the Year. The junior passed for 3,472 yards and 37 touchdowns and rushed for another 10 touchdowns last fall. Junior Travis England, sophomore Kip VanHoose and freshman Caleb Williams compete at running back. Michael Spainhour leads the receiving corps. The senior hauled in 712 receiving yards and eight touchdowns last fall. Sophomores Blake Hinton and Drew Dundee rotate in at receiver with sure hands. Junior Gage Oppel is a great blocker at H-back. Four starters return on the offensive line: junior Xavion Gardner (left tackle), sophomore Justin Bean (left guard), sophomore Jordan Toland (right guard) and junior Stephan Bonilla (right tackle). Junior Parker Hall takes over at center.
"You will still see us being aggressive on both sides of the football," Buchanan said. "Offensively, we will continue to exploit defenses by getting the ball to our skill players in space while dictating the tempo of the game."
The Warriors return their defensive line intact with seniors Collin Mayer (end) and Duwan Booker (tackle) and juniors Jacob Buchanan (tackle) and Adonnis Butler (end). Booker put up big numbers on the interior last fall — 52 total tackles, 11.5 tackls for loss and 6.5 sacks. Senior Stone Paul and sophomore Brooks Parham return at linebacker, alongside new starter junior Joel Brackett. Paul recorded 50 tackles and one interception as a junior. Juniors Chandler Marquandt (corner), Chad McGonigal (free safety) and Cory McGonigal (strong safety) and sophomore Ronnie McShan (corner) project as secondary starters. Senior punter Garrett Wolf and junior kicker Sandy Burks are both back.
"Defensively, we will continue to give multiple looks, coverages and pressures while putting our best players in positions to make plays," Buchanan said. "We also are looking to have more consistency in our special teams this year with all of our specialists returning. Our expectation is to continue to do what it takes to win games and send the current senior class out as the winningest class in school history."
5 Players to Watch: 
Miles Thompson (Jr. QB)
Michael Spainhour (Sr. WR)
Duwan Booker (Sr. DL)
Stone Paul (Sr. LB)
Kip VanHoose (Soph. RB)
1 Must-see Game:
"We would love to have everyone we could get here for the Berry game because they won the conference last year, and they represent the lone home blemish for the Warriors at Crafton-Faulkner field." — Buchanan
2018 Schedule:
Sept. 1 Lyon
Sept. 8at Texas Lutheran
Sept. 15 Centre
Sept. 22 at Austin
Sept. 29 Sewanee
Oct. 6 at Birmingham-Southern
Oct. 13 Berry
Oct. 27 Trinity
Nov. 3 at Rhodes
Nov. 10 at Millsaps