07 Apr

Hendrix success secures spot in SAA Tournament semifinals

CONWAY — Hendrix, which is receiving votes in the latest Top 25 rankings, swept a Southern Athletic Association (SAA) doubleheader, each in three sets, against Centre (Ky.) on Saturday inside Grove Gymnasium. The Warriors, who have won eight-straight matches in the series, took the first match by scores of 25-23, 25-21 and 25-15 before capturing the second match 25-14, 25-20 and 25-22.


With the sweep, Hendrix (6-4, 6-4 SAA) secured a spot in the SAA Tournament semifinals April 17. The Warriors, currently the No. 3 seed, conclude their season April 10 with a doubleheader at Rhodes (Tenn.) starting at 11 a.m. CT.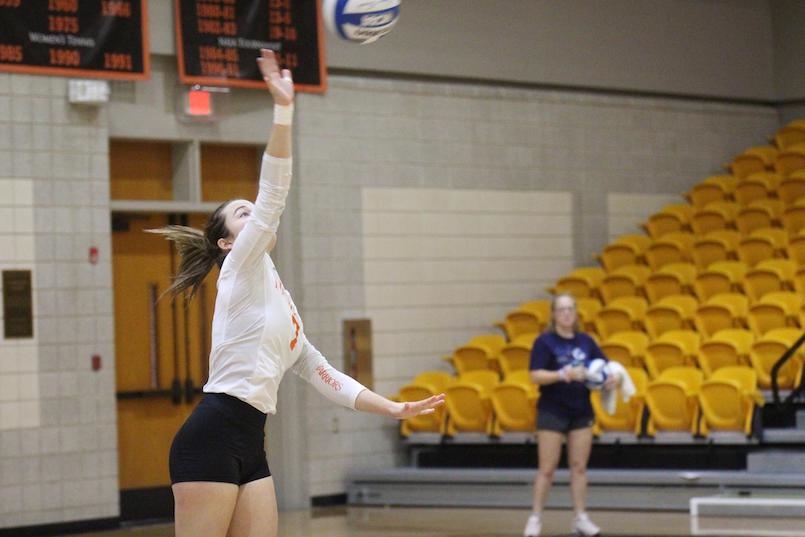 In the first match, Camryn Presley recorded a double-double with 11 kills and as many digs to go along with three service aces. Sadie Walker added eight kills.

Jeanette McGrath had 19 digs in the win. Kyler Greenlee dished out 13 assists, and Claire Smith had 11.

Katie Hall and Eleanor Davis each had seven kills in the loss. Madi Barron came up with 21 digs. Kylie Cochran dished out 16 assists, and Meredith Phillips had 11.

In the second match, Presley totaled 15 kills.

McGrath had 21 digs, and MaKenzie Presley netted 19.

Greenlee dished out 22 assists. Smith added 12.

Barron came up with 30 digs, while Natalie Loper had 11.

Cochran and Phillips dished out 16 assists apiece.

Centre (2-10, 2-10 SAA) hit only .098, totaling 25 attack errors on 143 attempts.

The second match marked the final home appearance for McGrath, M. Presley, Allison Long and Maddie Tovar.