20 Feb 2023

Hendrix Players present 'The Hope Hypothesis'

Posted at 4:55 PMh

in

News

CONWAY — The Hendrix Players and the Hendrix College Department of Theatre Arts and Dance present four performances of Cat Miller's dark comedy The Hope Hypothesis in Cabe Theatre on the Hendrix College campus, 1600 Washington Avenue in Conway.

Performance times are 7:30 p.m. Wednesday, Thursday, and Friday, Feb. 22-24, and 2 p.m. Saturday, Feb. 25. Admission is free, but reservations are required and may be made through Eventbrite.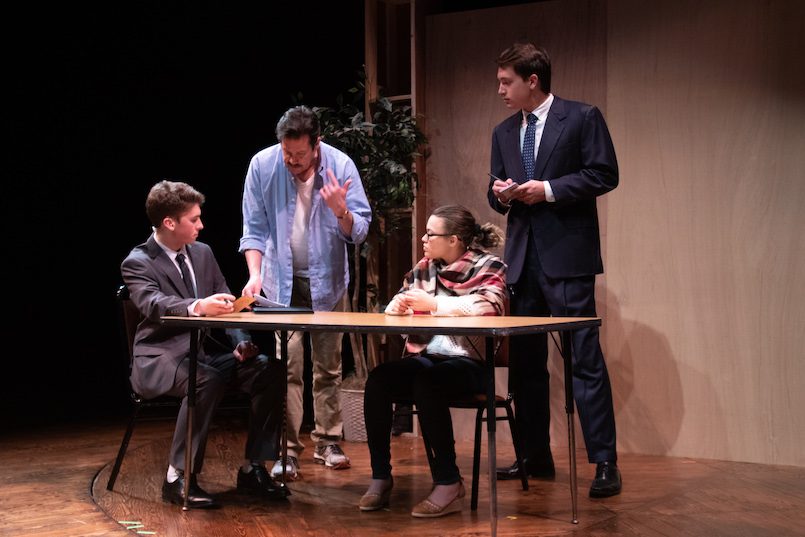 The plot of The Hope Hypothesis centers on Amena Qamar, a model immigrant. A refugee from war-torn Syria, she has fled to the United States and fully embraced the American way of life, graduated from college, and is finishing up her third year of law school. Her goal is to bring the cherished American principles of protection under rule of law to the world by working in international humanitarian law. But when pursuing her path towards citizenship reveals a flaw in her paperwork, Amena's plans are suddenly put in peril. She must overcome the suspicions about her past by of those in authority to avoid deportation… or worse.
William Ragsdale, a native of El Dorado, Arkansas, and a 1983 Hendrix College graduate, has returned to campus as the Murphy Visiting Theatre Director for this production, which is funded by programming support from the Hendrix-Murphy Foundation Programs in Literature and Language. Murphy Visiting Theatre Directors spend six weeks as artists-in-residence to direct a play, in the process teaching students about how directors interact with scripts, as well as providing insight into dramaturgy and directing.
After graduating from Hendrix, Ragsdale went on to become an award-winning stage and screen actor. He made his Broadway debut in 1985, replacing Matthew Broderick as Eugene Morris Jerome in Neil Simon's Biloxi Blues; that same year he starred as Charley Brewster in the Columbia Pictures film Fright Night. His television credits include the lead role in the 1990s Fox series Herman's Head and recurring roles on Ellen (as Ellen's "last" boyfriend), Judging Amy, Less Than Perfect, Search Party, and Justified, as well as dozens of individual guest appearances on other episodic series.
"It's really been such a pleasure to be back on campus and to be back in the Cabe Theatre," Ragsdale said. "I hadn't fully anticipated how special it would be to get to create a whole new batch of wonderful memories to go along with the old ones that already I have of being on this stage 40 years ago. It's a really special place and the students are amazing. They're so engaged, inquisitive, creative, committed … you know, they're just 'Hendrixy.'"