09 Mar 2022

Hendrix Lacrosse players combine for nine goals in win

MONTGOMERY, Ala. – Hendrix's Spencer Dorfneilsen and Nick Quarles combined for nine goals in their team's 15-8 win over Huntingdon (Ala.) on Sunday at Samford Stadium. The Warriors won their third-straight game against the Hawks.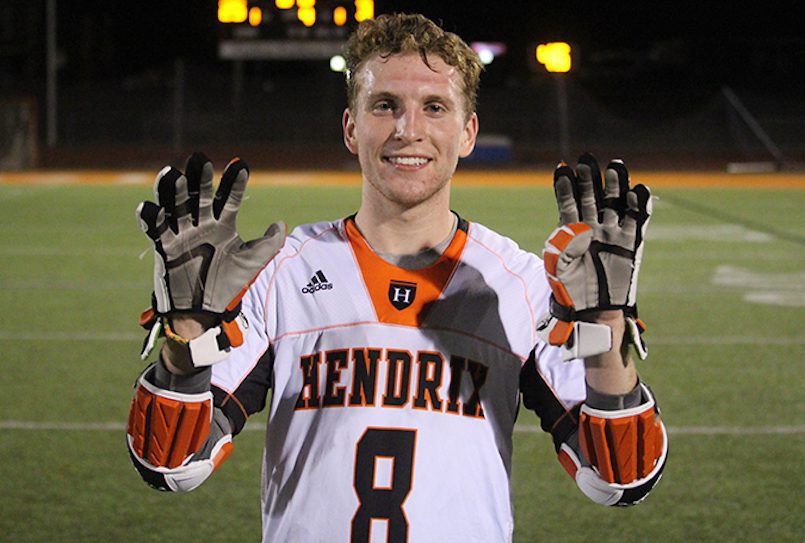 Hendrix (3-2) head coach Jordan Drumheller earned a win in his first try over Huntingdon (2-4) head coach Andrew Carey, for whom he was an assistant for two seasons (2012-13).

Dorfneilsen and Quarles scored the first two goals of the game with assists by Alec Davis and Maximus LaMendola, respectively. Dorfneilsen tickled the twine with 29 seconds left in the first quarter, leading to a 5-2 advantage for the Warriors after 15 minutes of play.

Dorfneilsen scored consecutive goals in a four-minute span late in the second quarter, propelling his team to an 11-3 edge at intermission. Hendrix scored nine-straight goals between the first and second quarters.

The Warriors' largest advantage of the second half, 12-3, came 32 seconds into the third period when Ethan Austin found the back of the net.

Davis and Klaus Rowan each scored two goals in the win.

LaMendola ended with a game-high three assists, while Dorfneilsen, Quarles and Davis each had two.

Dorfneilsen totaled a game-high 13 shots, including five on frame. He also picked up seven ground balls.

Davis had 10 shots and Quarles nine. Each player had six on target. 

Ian Domeika (3-2) went the distance between the pipes and made seven saves in the win.

Hendrix held edges in ground balls (33-16) and shots (62-28). The Warriors were 20-of-21 on clears.

Ian Bruggeman scored four goals in the loss. He had 12 shots, with seven on goal. Brennon Madonia picked up eight ground balls.

Tyler Daigle (2-4) played the first half in net and took the loss, making six saves. Jesse Thomas played the final 30 minutes and recorded 11 stops.

The Warriors face UMass Boston (Mass.) on the campus of Southwestern (Texas) at 6 p.m. CT on March 17.