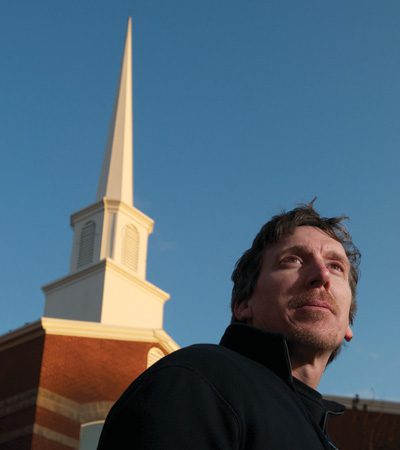 21 Jan 2012

Helping youth 'make their faith their own'

Posted at 9:57 AM

in

Faith

by Renee Hunter

With every word, Shawn Hammontree, youth minister at Antioch Baptist Church in Conway, speaks of love – for God, for the young people he works with and for his family.

"One thing I talk to [the youth] about more than anything else is spending daily time with God," Shawn said. Without his God time, he says, he couldn't do anything, much less all that he does.

His schedule is packed.

At Antioch, he facilitates three groups, a fifth- and sixth-grade group on Sunday, a seventh- and 12th-grade group on Wednesday and a college group, which meets on Monday at the University of Central Arkansas.

"I'm working more with college students now," he added. He tells them that they "must explore their faith and make it their own."

"That's what I enjoy doing – helping them make their faith their own."

On Feb.18, at the Central Baptist College alumni luncheon, Shawn's work with young people will be recognized when he is named the first "CBC Outstanding Individual."

Shawn and CBC first became connected through his wife, Tonya, who works in the college's financial office. And many of his former youth group members now attend CBC. He speaks frequently at Wednesday evening chapel, has been the voice of Mustangs basketball for several years and has taught classes to future youth ministers.

"I love doing that, training new ministers," he said. "That's a neat aspect that I didn't see, coming into this job."

A UCA graduate, Shawn taught seventh-grade social studies at Greenbrier Middle School for six years. He always tried "to make history come alive" for his students, inviting Civil War re-enactors into his classroom.

Shawn joined the Antioch staff nine years ago, a change he wasn't looking for.

"I had just finished my best year of teaching," and says he thought, "I'm just going to do this forever."

When he was approached about the youth minister's job, he thought "this is nuts" – but "I felt God was just pulling me in this direction."

Eventually, he answered God's call.

At first, he felt lost. As a teacher, he had specific things to teach and specific ways to do so. Suddenly, he was handed a Bible and told to go for it.

"There are no lesson plans in the Bible," he said with a laugh.

But God gave him the needed skills and the needed help – several CBC students help him with his high school group.

Shawn's youth ministry focuses on missions. He facilitates "Volunteer Student Missions Boot Camps" and leads many mission trips.

Over the Christmas holiday, he led two such trips, taking 16 seventh through 12th graders to Gary, Texas, for a winter camp and 33 college students to a Passion Conference in Atlanta's Georgia Dome. Each year, he serves as "the face of" a summer SOAR Camp, to which he may take as many as 130 youths.

"I've grown to love how they act and how they think," Shawn said of the young people. "I love having input into their lives. I have to say this for this generation of kids, I've never seen a group so willing to give."

Shawn also enjoys announcing. Besides his gig at CBC, he takes the mike for Upward Basketball, for ATV Motocross races and, occasionally, for Greenbrier games.

"I've always been the idiot with the microphone," he said "I just love the microphone."

Shawn also speaks to Conway Excel groups roughly every six weeks. His topics are the importance of good character and wise choices.

"In the course of a year, I get the chance to talk to at least 75 percent of the students in the Conway School system," he said, many of whom never attend church.

Shawn and Tonya are also actively involved with Soaring Wings Ranch, often becoming a temporary extended family for one of the children.

They have three children of their own: Sarah, a senior; Meredith, a ninth-grader; and Reese, a sixth-grader.