07 Oct 2020

Haynes pushing Bulldogs to 'be the best'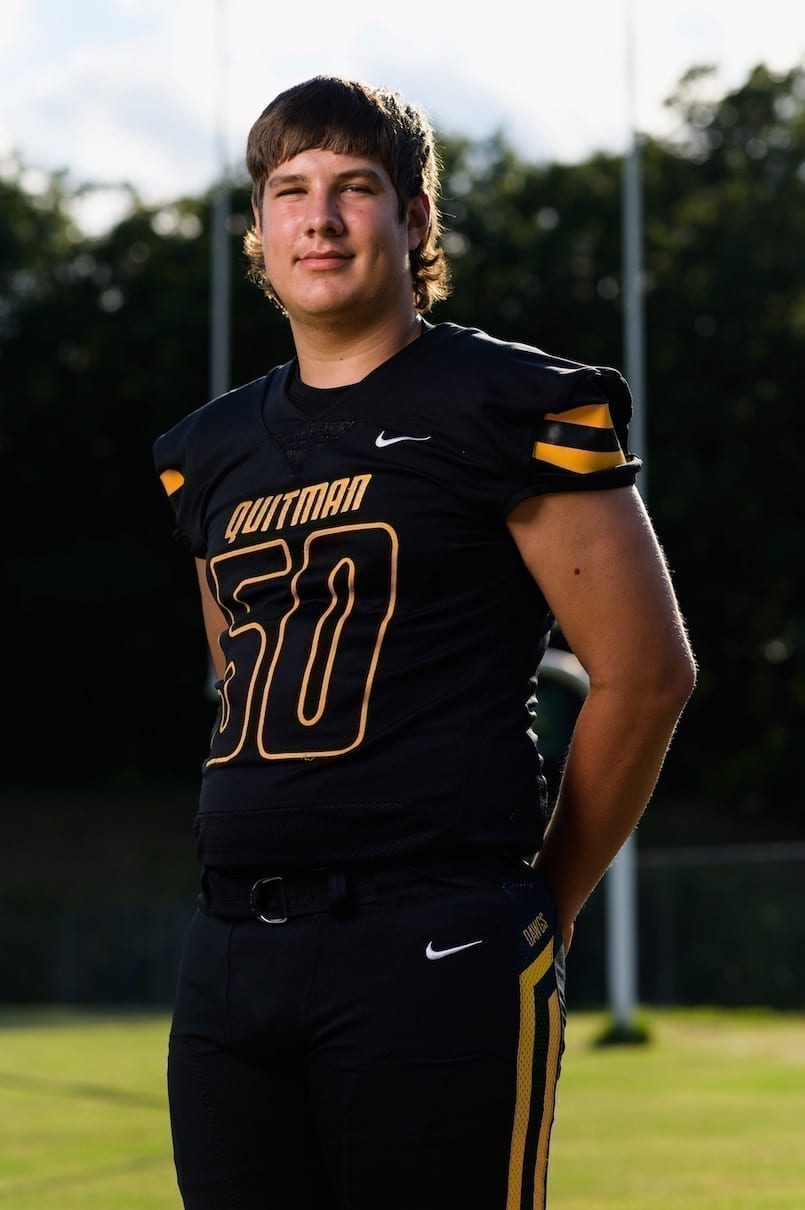 Austin Haynes will be a player for college coaches to keep an eye on this fall. The senior brings size and agility to both sides of the line of scrimmage for Quitman. 
"He will be a three-year starter, and he allows us to do a lot in our pass game with him at left tackle," said Quitman Head Coach DJ Marrs. "When he comes to the sideline, he knows what the defensive line is doing, and most of the time he comes straight to me and tells me what plays he likes and doesn't, and that can sometimes be a pain for coaches, but he is genuinely breaking it down and understands what we want to do. Most of the time, he's dead on."
Haynes graded out as the Bulldogs' best offensive lineman in 2019. This year, his goals are to record 40 pancake blocks and not allow any sacks. Through five games, Haynes and the Quitman Bulldogs (3-2, 2-0) have gotten off to a successful start in the 4-2A.
"We are doing well in many aspects of the game," Haynes said. "We just need to clean up on some blitz recognition and picking them up along with getting rid of dropped passes and fumbles. William Litton, not only being the quarterback [passing the ball], but that boy can run the ball. In tight situations, he is the one I trust the most.
"Up front this year, we are very physical on both sides of the ball and have no problem running the ball or stopping any run game."
This week, Quitman travels to Yellville-Summit looking to move to 3-0 in conference play.
"We have to clean up our game in the red zone and convert when we are that close," Haynes said. "We have to continue to improve and eliminate mistakes. Our schedule is getting tougher each week, and we have to focus and improve each week.
"Our senior class has had goals set for us since we were in junior high, and every year we have built towards accomplishing those goals. The classes before us have put in a good foundation, and we plan on taking the program to the next level for the classes that follow us."
Haynes also plays baseball for the Quitman Bulldogs, and the senior plans to continue playing football in college and pursue a coaching degree.
Haynes was selected to this year's 501 Football Team — 24 players representing all 11 counties of the 501. The team, sponsored by Conway Regional Health System and First Security Bank, boasts the best the 501 has to offer both on and off the field. The senior was nominated by Marrs.
"He is smart, athletic and has that 'nastiness' that pushes him to finish blocks the way you want an offensive lineman to," Marrs said. "He will also help us a lot on the defensive line with his speed and great technique. At the end of the season, he should be on the radars of several schools with his size, ability and great grades.
"He is the second oldest of his five brothers and sisters. He understands selflessness and isn't scared to be the guy who steps up first to help out."
Quitman heads to Yellville-Summit with kickoff set for 7 p.m. Friday, Oct. 9.

Latest posts by Levi GIlbert
(see all)