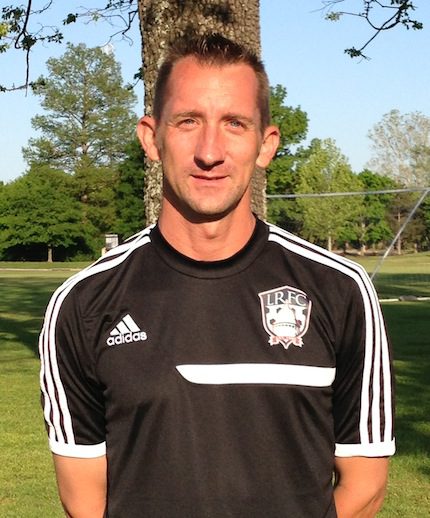 15 May 2013

Hawkins makes move to LRFC

by Donna Lampkin Stephens


After eight years, the father of Central Baptist College's soccer programs has moved on.

Justin Hawkins, 38, who started the men's and women's programs at CBC, recently left that position to become director of coaching at Little Rock Futbol Club, one of the most prestigious soccer clubs in the 501.


"After being somewhere eight years, no other college offers were exciting or interesting enough for me to consider, but I have longed to make a bigger impact on soccer in Arkansas, and this presented the opportunity to help all kids – not just college kids," Hawkins said.


Prior to CBC, Hawkins was director of coaching for the Conway United Soccer Association, girls coach at Conway High, technical director for the Arkansas State Soccer Association and coach at Greenbrier High. He was named National Christian College Athletic Association Central Region Coach of the Year in 2007 and '08 and guided CBC's men's team to the regional championship and the national tournament in 2008.


According to littlerockfc.com, the Little Rock Futbol Club was formed in 1980 as the Riverdale Soccer Association. Its mission was "to assist young people with the ability and desire to become better soccer players, sportsmen and young adults." Since then, the club, which started with 80 kids, has won more state championships than any in Arkansas.


One of the immediate plans for LRFC is a name change. Within days, Little Rock Futbol Club will become Arkansas United Soccer Club.


"Part of that is so we'll be more inclusive," said Hawkins, who was born in Little Rock and graduated from Heber Springs, although he spent a good portion of his youth out of state. "We want to be open for more kids in surrounding areas to join in.


"Our end goal and philosophy is to develop soccer and raise the level of players all over central Arkansas. There are a lot of small surrounding clubs we want to reach out to, kids in Greenbrier, Vilonia, Bryant, Maumelle, and just to make sure we're presenting a lot of different soccer opportunities for all those kids, to create opportunities from Level 1, recreational, all the way up to Classic."


According to the website, the club offers a team for players of every ability, "from beginner to the most talented, college-bound players."


Hawkins, who previously was a staff coach at LRFC, said more than 1,200 players ages 4-18 were involved.


"Four years ago they asked me to recruit some teams in Conway, and now we have seven Little Rock Futbol Club North teams," he said.


His plans include getting more kids and clubs under the umbrella of Arkansas United.


"We want to set up a college program," he said. "We currently have more college coaches on our staff than any other club in Arkansas. They'll be guest-coaching with us and practicing with us."


Arkansas United will also begin a twice-yearly college combine in which soccer players from all over Central Arkansas — not just Arkansas United — will be welcome to show off their skills to college coaches from across the region. He said the first would be in early August to kick off the fall season, with the second scheduled for January.


For more information about Arkansas United, contact Hawkins at [email protected] or visit littlerockfc.com.