19 Aug

HASKELL HARMONY GROVE: Cardinals move up to 7-4A

Conference: 7-4A

Coach: Mike Guthrie

'17 Record: 8-4

The Haskell Harmony Grove Cardinals rode a strong senior class to an 8-4 record and reached the second round of the 3A playoffs. This fall, the Cardinals will be replacing several starters, moving up to the 7-4A and following the leadership of a new head coach. Mike Guthrie, Harmony Grove's defensive coordinator the last two seasons, takes over the program.

Senior Logan Whitley takes over the quarterback job. Seniors Jake Brooks and James Webb and junior Willie Newton rotate at running back as the Cardinals look to run the ball more in 2018. Brooks led the team in rushing last fall with 901 yards and 14 touchdowns. Senior Mark Dixon and junior Will Hope block and catch well at tight end. Seniors Shane Small, Mason Massey and Bryce Burnett and juniors Tanner Oden and Olin Shuffield open lanes up front on the offensive line. Junior Conner Burrow takes over the kicking and punting duties.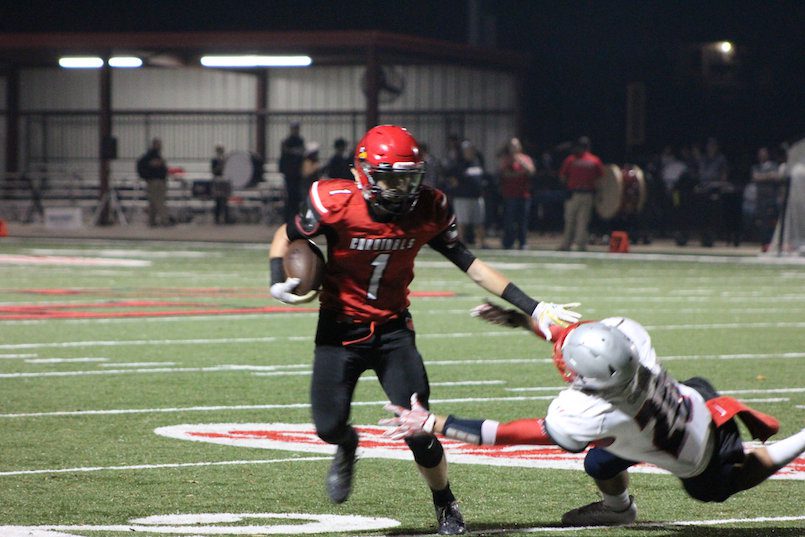 Massey and Dixon are two-way starters on the defensive line, alongside sophomore Cayden Childers. Brooks racked up 105 tackles and two interceptions at linebacker last fall. Webb and juniors Hayden Hilson and Ryan Riedmueller defend the other starting linebacker spots. Whitley, Conner Burrow, Logan Hubbard and Michael McKnight comprise the secondary starters.
"We are entering a new conference and looking to compete," Coach Mike Guthrie said. "We have a strong work ethic, but our weaknesses are team speed and low numbers."
5 Players to Watch: 
Jake Brooks (Sr. RB/LB)
Shane Small (Sr. OL/DL)
Logan Whitley (Sr. QB/DB)
Mark Dixon (Sr. TE/DL)
Mason Massey (Sr. OL/DL)
1 Must-see Game:
"Malvern, close in proximity." — Guthrie
2018 Schedule:
Aug. 24 at Centerpoint
Sept. 7 Gurdon
Sept. 14 Bald Knob
Sept. 21 at Ashdown
Sept. 28 Malvern
Oct. 5 Bauxite
Oct. 12 at Arkadelphia
Oct. 19 Nashville
Oct. 26 at Fountain Lake
Nov. 1 Robinson
501 Football Team '18
Jake Brooks
Classification: Sr.
Position: RB/LB
On the field: Instinct and passion for the game.
Off the field: Great work ethic.