09 Jun

Harlan finalizes first coaching staff

CONWAY — University of Central Arkansas baseball coach Nick Harlan has finalized his first coaching staff after taking over the program last month, and there are several familiar faces.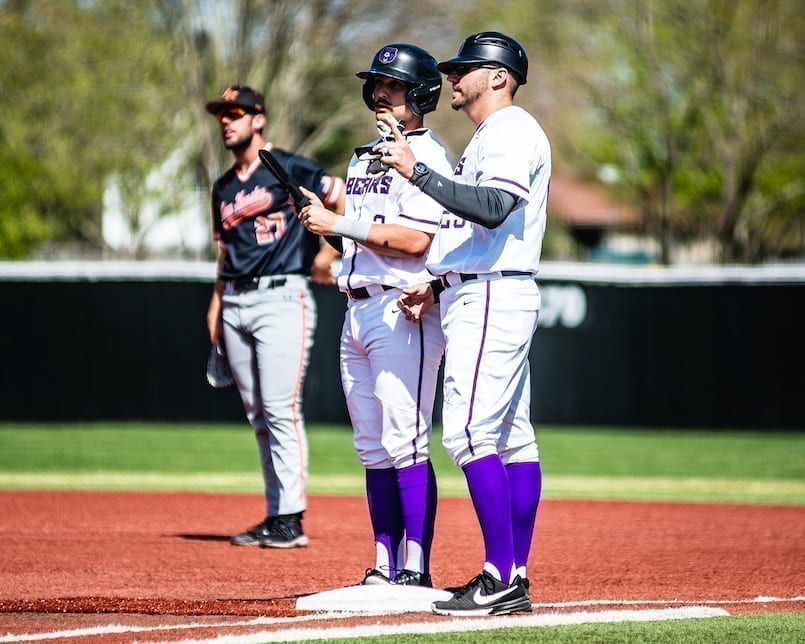 Justin Cunningham has been promoted to associate head coach and will retain his title of recruiting coordinator after four seasons with the Bears. Hayden Simpson, UCA's volunteer assistant for the past two seasons, will assume the role of pitching coach. Former All-Southland Conference pitcher Cody Davenport will remain as UCA's director of player development, while Curtis Kellogg will join the program as the volunteer assistant. Hunter Roberts will also continue in his role as director of operations for a second year.
"I am very excited to promote all of our coaches within the program as well as add one," said Harlan, who himself was elevated from associate head coach when Allen Gum retired last month. "We want coaches who possess high character, an aptitude for the game, and, most importantly, love for our players and a desire to see them develop on and off the field. This coaching staff has the passion and discipline to work every day to help these young men grow."
Cunningham came to UCA in 2018 from a head coaching position at TCS Post Grad Academy in Texas. He has coached previously at Central Christian College, Oklahoma Wesleyan and Ouachita Baptist. He is a graduate and former player at Lyon College in Batesville and earned his master's degree from Henderson State University in Arkadelphia.
"I am thrilled that the Cunnningham family will be staying in Conway and excited to promote Justin to Associate Head Coach/Recruiting Coordinator," Harlan said. "Justin is a great baseball coach and family man. His primary responsibilities will be coaching third base, working with infielders, and hitters as well as organizing our recruiting efforts.
"He is a tremendous leader, teacher, and communicator and will continue to help move this program forward. His impact far exceeds the baseball field as he truly cares about the lives of each one of our players."
Simpson is a former first-round draft pick of the Chicago Cubs out of Southern Arkansas University and a two-time All-American pitcher who has been with the UCA program for two seasons. Simpson, a Magnolia, Ark., native, had a remarkable 35-2 record in his three-year SAU career and was the 16th overall pick in the 2010 MLB Draft.
"Hayden's experience and knowledge of the game will greatly benefit our pitching staff," Harlan said. "He has the unique ability to teach and connect with players in a way that is well received. In his time here he has demonstrated the ability to help experienced pitchers make adjustments, as well as develop young arms. He is the perfect fit for pitchers who have a desire to play professional baseball."
Davenport is one of the most decorated pitchers in UCA history, holding school records for most career starts (955), innings (365.1) and strikeouts (272), while tying the career mark with 22 victories. He was an ABCA/Rawlings All-Region selection as a senior and was drafted in the 20th round of the 2019 MLB Draft by the Kansas City Royals.
"We are very fortunate to retain Cody Davenport as our director of player development," Harlan said. "Cody means so much to this program. He is one of the most accomplished players in UCA history. It was a privilege to coach him and I could not be more pleased to have him back. The toughness and competitiveness he pitched with at UCA is contagious. Our pitchers will continue to benefit from his presence in our program."
Kellogg, from Sonora, Calif., comes to UCA from Arkansas Tech where he served as a graduate assistant for a Wonder Boys program that tied for the Great American Conference (GAC) regular-season title and advanced to the NCAA Division II Central Region Tournament.
"We are excited to welcome Curtis Kellog to the program," Harlan said. "Curtis's primary responsibility will be to work with hitters and catchers. He comes to us from Arkansas Tech where he made a tremendous impact, helping them lead the conference as well as rank nationally in several offensive categories. Curtis also spent time with the Seattle Mariners organization as a hitting analyst.
"His offensive mindset, positive energy and work ethic is exactly what we want in a leader for our players."
Roberts, from Lee's Summit, Mo., took over the operations role in 2021 while also continuing as UCA's director of ticketing for all sports.
"Hunter serves our program in so many ways," Harlan said. "His organizational skills and desire to provide a positive experience for our student-athletes is extremely valuable. I am thankful for his commitment to this program."