31 May 2023

Harding's Bush wins 400 meter National Championship

PUEBLO, Colo. – Junior Dakarai Bush won Harding's second national championship of the weekend on May 27. Sophomore Antiwain Jones added a fifth-place finish in the high jump as the Harding men's track team concluded its 2023 outdoor season with an 11th-place finish at the 2023 NCAA Division II Outdoor Track and Field Championships.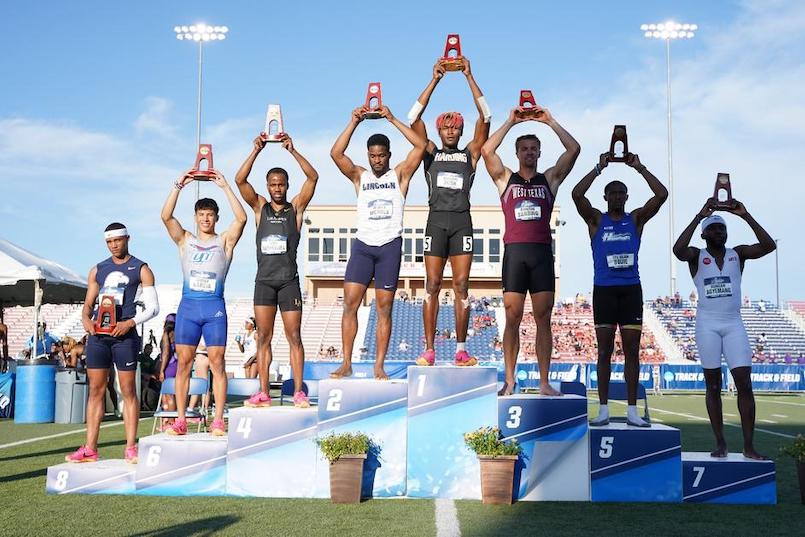 Harding's 26.5 points ranked second in program history behind only the 28 points earned by the Bisons at the 2006 national meet in Emporia, Kansas. Bush joined pole vaulter Vlad Malykhin as national champions this weekend. It was only the third time Harding won two individual national championships in the same weekend. In 2006, Przemek Bobrowski won the 1,500 meters, and Julius Kosgei won the 10,000 meters. In 2009, Daniel Kirwa won both the 5,000 meters and 10,000 meters.
The 11th-place finish was Harding's highest since also placing 11th in 2008. It was the second straight season the Bisons finished in the top 15 and the seventh top-15 finish since Harding joined the NCAA in 1998.
Less than 24 hours after Bush took a nasty fall in the 110-meter hurdles preliminary, he settled into the blocks with bandages on both elbows and both knees to race in the 400-meter final. Just 45.67 seconds after the starter's gun sounded, Bush collected Harding's first-ever national championship in the event. In fact, Bush was the first Bison ever to qualify for the event at nationals. His time broke his own school record of 45.70, set two days earlier in the 400-meter preliminaries.
Jones cleared 2.15m/7-00.50 to tie for fifth place and collect his first First Team All-America honor in the outdoor high jump. He became the fourth Harding men's athlete to earn All-America in the high jump, joining national champion Steve Celsor (1975), Bill Baker (1988) and Te Howard (1989). Jones was the first Harding high jumper to clear seven feet at the national meet.