05 May 2021

Harding women's tennis earns No. 4 seed in Central Region Tournament

The Harding women's tennis team qualified for the 2021 NCAA Division II Women's Tennis Championship when the bracket was announced on Tuesday night. Harding (16-2, 6-0) claimed the Great American Conference's automatic bid after winning the GAC Championship against Southeastern Oklahoma State on April 24.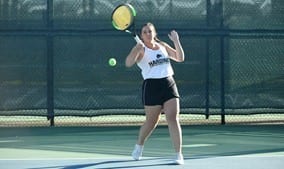 Harding earned the No. 4 seed and will face off against No. 5 seed Northwest Missouri State at 2 p.m. on Friday, May 7. The winner of the Harding/Northwest Missouri State match will take on the tournament host and No. 1 seed Central Oklahoma on Saturday, May 8. Augustana and Washburn claimed the No. 2 and No. 3 seeds and will face off on Saturday at 11 a.m.

The Lady Bisons are making their 9th appearance in the NCAA Regional Tournament and are 3-8 all time in the NCAA Tournament. It is the first appearance since 2014 Harding when they fell to Arkansas Tech, 5-4. The last win in the tournament was in 2007 against North Alabama.
Harding has won their last 10 matches dating back to March 20, the last time the Lady Bisons faced off against Northwest Missouri State. The Lady Bisons defeated the Bearcats 5-2. 

Central Oklahoma, Washburn, and Augustana were all ranked in the latest Oracle ITA Division II Women's Team Rankings. Central Oklahoma is fourth, Washburn is 17th, and Augustana is 21st. Central Oklahoma won the MIAA Championship and Augustana claimed the NSIC Championship.