14 Sep

Harding volleyball wins 10th straight game

ARKADELPHIA – The Harding volleyball team stayed perfect in Great American Conference action on Tuesday after defeating Ouachita Baptist 3-1 (25-21, 16-25, 26-24, 25-13). Harding will continue Great American Conference action tonight when it hosts Arkansas Tech at 6 p.m. at the Rhodes-Reaves Field House.

Harding improves to 12-1 on the season and is 2-0 in GAC action.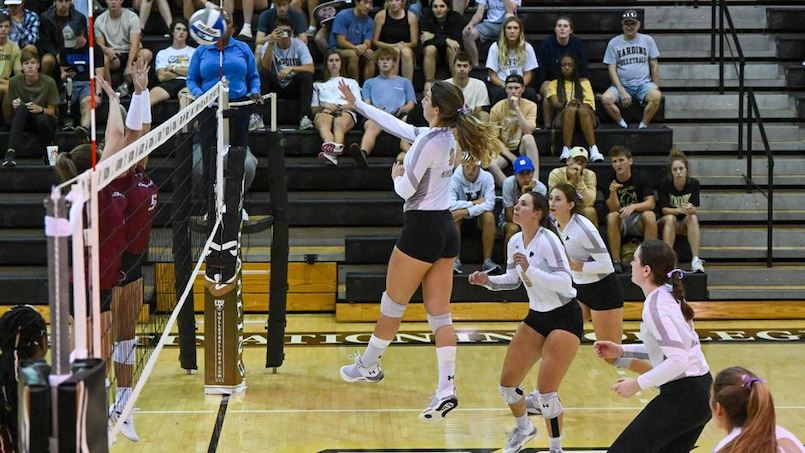 Ouachita Baptist falls to 6-7 overall and 0-2 in the GAC.
FIRST SET
Trailing 14-12 in the first set, Harding went on an 8-1 run to take a 20-15 lead. Ouachita Baptist won the next five points to tie the set at 20. The Lady Bisons closed the set on a 5-1 run to win 25-21. Harding had 12 kills in the set and held the Tigers to hitting .021.
SECOND SET
Ouachita Baptist quickly jumped out to a 7-1 lead in the second set on five kills. Harding battled back to pull within two, 14-12 but the Tigers went on to win the set 25-16. Ouachita Baptist had 12 kills and only three attack errors in the set.
THIRD SET
Trailing 14-11 in the third set, Ouachita Baptist took a 16-14 lead after a 5-0 run on three kills. Harding answered back with a 6-2 run on four kills to lead 20-18. Trailing 23-22, Harding scored the next two points on back-to-back kills to lead 24-23. The Tigers then tied it up but a kill by Libby Hinton and a block gave the Lady Bisons the set 26-24. Harding had 17 kills in the set.
FOURTH SET
Harding carried its momentum into the fourth set taking a 14-8 lead. The Lady Bisons then went on an 8-0 run on three kills to lead 22-8. Harding cruised the rest of the way to a 25-13 set victory. The Lady Bisons had 13 kills and forced seven Tiger attack errors.
STATS
Harding
Harding had 53 kills and hit .158 in the match. It was the fifth time this season the Lady Bisons have had over 50 kills in a match.
The reigning GAC offensive player of the week Kelli McKinnon led Harding with 13 kills and five blocks.
Kyler McKinnon also had 11 kills for the Lady Bisons.
Sarah Morehead had 43 assists and four blocks.
Harding had 87 digs in the match with three players in double figures. Emma Winiger led the defense with 24 digs. Grecia Soriano had a career-high 15 digs and Logan Smith had 14 digs.
Ouachita Baptist
Ouachita Baptist had 40 kills, 21 attack errors and hit .119 in the match.
Four different players had seven kills.
Lexie Castillow led the defense with 33 digs.