08 Nov 2023

Harding volleyball sweeps Southern Arkansas

SEARCY — The Harding volleyball team swept Southern Arkansas 3-0 (25-21, 25-10, 25-13) Monday in Great American Conference action at the Rhodes-Reaves Field House.

After the match, Harding recognized seniors Sarah Morehead, Libby Hinton, Grecia Soriano, Kelli McKinnon, Logan Smith-Morgan, Emma Winiger and Chloe Ingersoll for their contributions to the Harding volleyball program.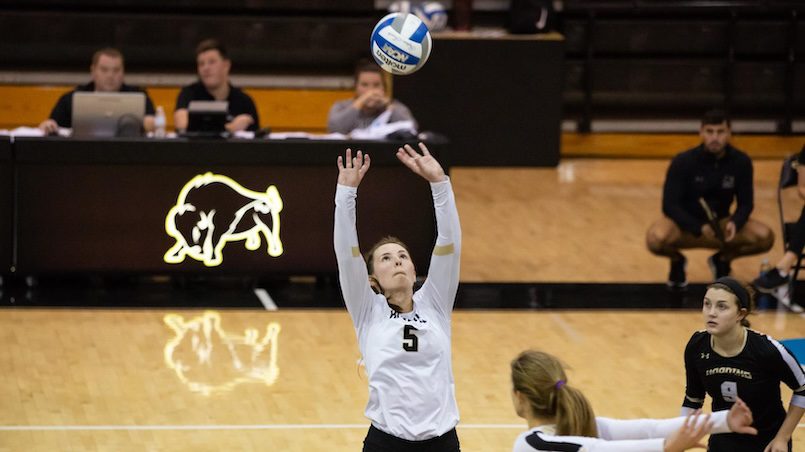 Harding improves to 17-10 overall and 12-3 in the GAC. The Lady Bisons have already sealed a spot in the GAC Tournament held November 16-18 in Hot Springs, Arkansas. Harding is still in a battle for first place in the GAC standings.
Southern Arkansas falls to 14-13 overall and 8-7 in the GAC.
FIRST SET
Trailing 6-3 in the first set, Southern Arkansas went on a 4-0 run to take a 7-6 lead. Trailing 18-14, Harding went on a 6-2 run to tie the set at 18. Tied at 21, Harding scored the next four points to win the set 25-21. The Lady Bisons had 15 kills in the set.
SECOND SET
Harding jumped out to a 10-1 lead in the first set. Leading 22-10, the Lady Bisons had a block and forced two Southern Arkansas errors to win the set 25-10. Harding forced nine Mulerider attack errors in the set.
THIRD SET
Harding carried its momentum into the third set jumping out to an 8-1 lead on six kills. Leading 19-12, Harding won six of the next seven points to win the set 25-13. Harding had 15 kills in the set.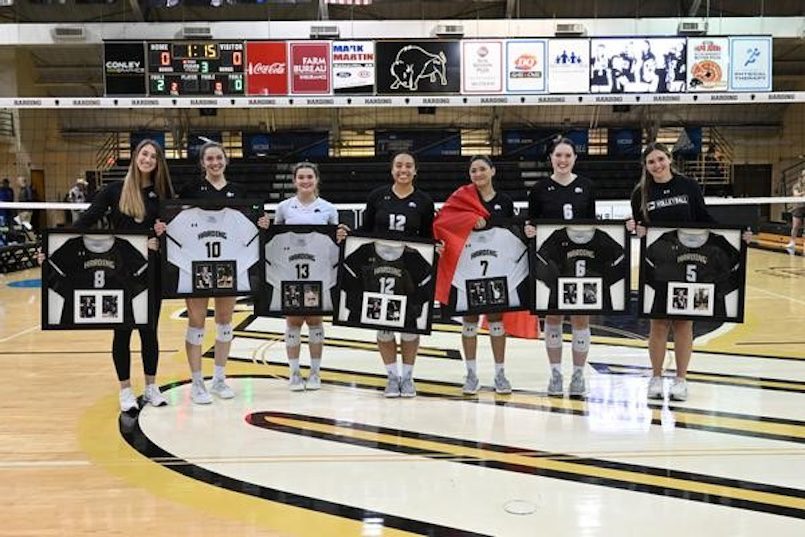 STATS
Harding
Harding had 39 kills, 17 attack errors and hit .204 in the match.
Skyler McKinnon and Chloe Ingersoll led the Lady Bisons with nine kills.
Harding had 58 digs in the match with Logan Smith-Morgan leading the way with 12. Emma Winiger also had 11 digs.
Harding had eight aces in the match with Grecia Soriano having four.
Libby Hinton led the Lady Bison defense at the net with four blocks.
Southern Arkansas
Southern Arkansas had 17 kills, 20 attack errors and hit -.030 in the match.
Kayte Delong led the Muleriders with five kills.
Southern Arkansas had 49 digs in the match with Alessia Sonzini leading the team with 19.
UP NEXT
Harding will play its final regular season match on the road Thursday when it takes on Arkansas-Monticello at 6 p.m.