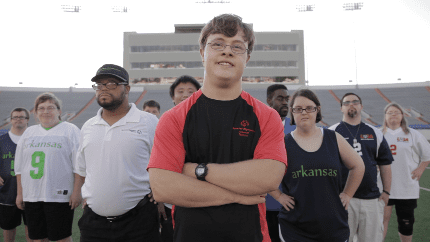 18 May

Harding University to host Special Olympics summer games

Harding University will host the Special Olympics Arkansas summer games Thursday, May 21, through Saturday, May 23, celebrating 22 consecutive years having the event on campus.

Opening ceremonies kick off at 7:30 p.m. Thursday and activities last through closing ceremonies at 1 p.m. Saturday. Events include eight sports, and more than 2,000 athletes and 500 coaches are expected to attend.


Sunrise Motorsports & Outfitters is proud to support the 2015 Special Olympics Arkansas Summer Games at the opening ceremonies.


"We welcome bikers from all over Arkansas to join us as we ride to celebrate Special Olympics Arkansas," said Melissa Toomer, Sunrise event coordinator. "This is a motorcycle rally like none other. Sunrise has been part of this great event since the late 1990s, and we love it. People from all over Arkansas – even neighboring states – come out to support Special Olympics. The theme this year is 'Acceptance, Respect, Unity,' and that's how we plan to celebrate these athletes."


"When you meet athletes like Nathan McClain and the other competitors, you begin to get a sense of why this celebration is so important to us," Toomer said. "Nathan will compete in aquatics at the 2015 Special Olympics Arkansas Summer Games. He is an incredible guy and inspiration to us all."


Bikers are invited to meet at the Sunrise campus, 800 Truman Baker Dr., starting at 3:30 p.m. for hamburgers/hot dogs and giveaways. Kickstands go up at 5:45 p.m. for the ride to First Security Stadium to welcome Special Olympics athletes. For more information, call Melissa Toomer at 501.305.2900 or [email protected].


The public is invited to attend in support of Special Olympics, and there is always a need for volunteers throughout the events. For more information, visit specialolympicsarkansas.org.