16 May

Harding University to host 50th Special Olympics games

Harding University will host the Special Olympics Arkansas summer games Thursday, May 24, through Saturday, May 26, marking the 25th consecutive year the University has hosted the event.

"This is a special year for Special Olympics Arkansas as it celebrates its 50th year, and Harding University is honored to have been the longtime host, celebrating our 25th anniversary of partnering with this wonderful organization," said Penny Davis, University conference center director and events coordinator.

"This unique partnership allows Harding to host a very special group from across the state. To see our campus community come together and serve others in this way is very humbling."

Opening ceremonies will begin at 7:30 p.m. Thursday, May 24, at Harding's First Security Stadium. Nearly 2,000 athletes and 500 coaches are expected to attend and participate in various sports including aquatics, athletics, unified bocce, flag football, golf, powerlifting and team softball. The event will conclude with a closing ceremony at 1 p.m. Saturday, May 26.

"As Special Olympics Arkansas enters our 50th year, we celebrate a history steeped in empowering athletes to reach their personal best through wellness, community service and formulating lasting relationships," said Special Olympics Arkansas CEO Terri Weir. "Harding University strives to do the same for the students it serves, which makes it a perfect host campus for our largest event of the year."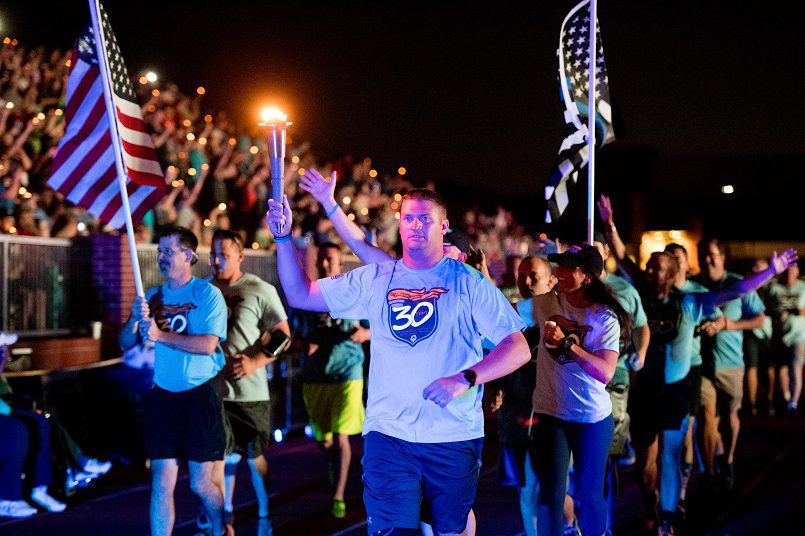 The Law Enforcement Torch Run for Special Olympics carries the Flame of Hope into Harding's First Security Stadium for the Summer Games Opening Ceremony at 7:30 p.m. Thursday, May 24. (Jeff Montgomery photo courtesy of Harding Athletics)
The Law Enforcement Torch Run for Special Olympics begins Monday, May 21, with officers carrying the Flame of Hope from all four corners of the state. They will converge in Little Rock on the steps of the Arkansas State Capitol at 9:30 a.m. Thursday, May 24, to join their flames in a ceremonial lighting of the final leg torch. Officers from all over the state will then run the torch from the Capitol steps to Searcy in an all-day awareness campaign that ends at First Security Stadium, kicking off the 2018 Special Olympics Arkansas summer games opening ceremonies.
The public is invited to attend in support of the program, and event volunteers are needed throughout the weekend to serve food or accompany athletes to and from events. Those interested in volunteering should check in at the volunteer tent near First Security Stadium.
"The full impact of summer games is beyond measure," Weir said. "While the competition serves as the highlight of the year to our athletes, coaches and countless families across Arkansas, I can say without hesitation that the true impact of summer games is on the community. Our athletes are guaranteed to exceed expectations and change a volunteer's life forever."
For a detailed schedule of events, visit specialolympicsarkansas.org or call 501.771.0222. For other Harding events and free and low cost services available to the public, visit harding.edu/community.