23 Mar 2022

Harding rallies, sweeps Oklahoma Baptist

SEARCY – Much is made of the school nicknames when the Harding Bisons take on the Oklahoma Baptist Bison. But this weekend in baseball action at Jerry Moore Field, the extra "s" stood for sweep.


Harding won both games of Saturday's Great American Conference doubleheader by scores of 3-2 and 5-3 and clinched the Bisons' first series sweep of the Bison with an 8-7 walk-off victory Sunday.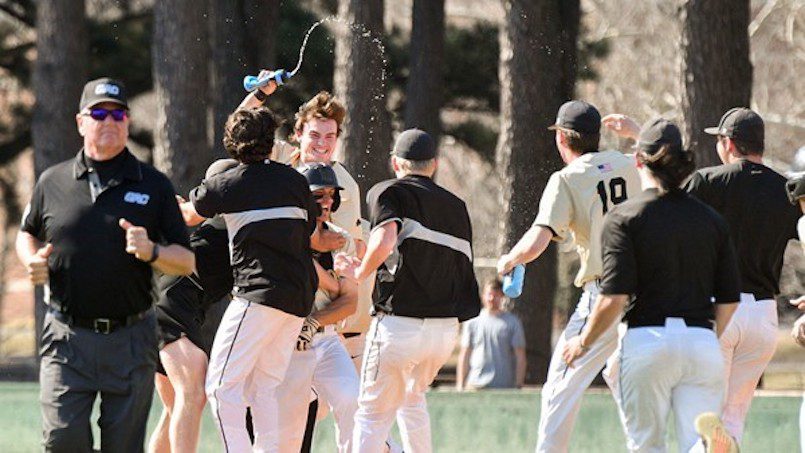 Harding improved to 14-10 overall and 8-7 in the GAC. The Bisons are currently in sixth place in the conference standings with six teams advancing to the conference tournament at the end of the regular season.

Oklahoma Baptist, who entered the weekend with six wins in its last seven games, dropped to 11-13 overall and 7-8 in conference. The Bison are tied for seventh in the GAC.

HOW IT HAPPENED

Oklahoma Baptist took advantage of a Harding error in the top of the ninth to score two unearned runs and take a 7-6 lead into the bottom of the ninth.

With one out David Butterfield reached on an infield single. Cody Smith followed with a single to right. Michael Dewald's ground out moved runners to second and third with two out. Oklahoma Baptist opted to intentionally walk Coulton Doyle, who had already homered twice in the game, to load the bases for senior Chris Witzke.

On the first pitch Witzke saw, he hit a chopper over the pitcher's head and beat out the throw to first. Butterfield came home with the tying run, and Smith, who never stopped running from second, came all the way around to score the winning run with a head-first dive into home just ahead of the throw.

Harding led 6-3 entering the seventh, but Oklahoma Baptist scored twice to cut the lead to one.

Harding scored three runs in the fifth on a three-run homer from Doyle that broke a 3-3 tie.

Two unearned runs in the third inning, one on a Witzke RBI single, knotted the game at three apiece.

Harding's first run came on Doyle's leadoff home run in the second inning that cut Oklahoma Baptist's lead to 2-1.

Sophomore Maddox Long started for Harding and went 6.1 innings. He allowed 10 hits and five runs (three earned), tying his career high with nine strikeouts.

Freshman Luke Johnson entered in the seventh and pitched two innings. He gave up two unearned runs and gave way to freshman Kyle Lane (1-0), who got the lost two outs. It was his first collegiate win. Lane also had a save in Harding's win in game one.

GAME NOTES
Harding has won four of its last five games and earned its first-ever series sweep of Oklahoma Baptist.
Harding had 14 hits in the game, tied for second most in a game this season.
Doyle was 3-for-4 with two runs, four RBIs and two home runs … it was his third two-HR game of the season … he joined Harding Hall of Famer Justin Cone as the only Bisons ever to have two HR in a game three times in the same season … it was Doyle's 10th multi-hit game, his fifth game with three hits or more, and his team-leading ninth game with multiple RBIs.
Doyle now has 10 home runs and is only the sixth different Harding player ever to homer 10 or more times in a season.
Smith was 3-for-5 with three runs … he extended his on-base streak to 20 games … it was his seventh multi-hit game and the third time this season he scored three or more runs.
Witzke was 2-for-5 with three RBIs … it was Witzke's team-leading 11th game with multiple hits and his fifth game with multiple RBIs.
Michael Dewald was 2 for-5 with a run … he extended his hitting streak to 12 games and his on-base streak to 14 games … it was his ninth multi-hit game.
Butterfield was 2-for-5 with two runs … it was his sixth multi-hit game.
Harding pitchers combined for a season-high tying 10 strikeouts.