04 May 2022

Harding pitcher honored

BENTONVILLE — The Great American Conference announced the Baseball Weekly awards for the final week of the 2022 season. Oklahoma Baptist's Dan Pruitt won Player of the Week while Arkansas-Monticello's Derek Potts and Harding's Carter McCall shared Pitcher of the Week.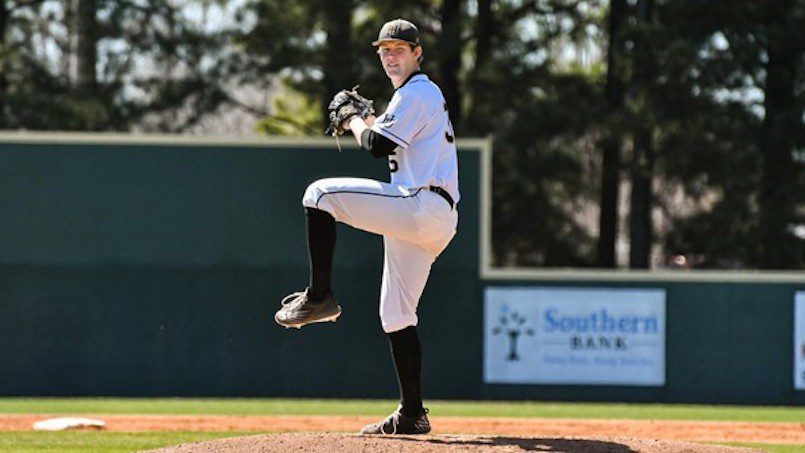 GAC BASEBALL PLAYER OF THE WEEK – Dan Pruitt, Oklahoma Baptist, 1B, Jr., Oklahoma Baptist

Pruitt led the Bison to a 4-0 week as he went 10-for-17 with three home runs. He raised his total to 22, the second-best single-season total in GAC history. He drove in seven in game one of their Southern Nazarene series and five in the finale. He added three stolen bases. He leads Division II in total bases and ranks in the top 10 in home runs and slugging percentage. 

GAC BASEBALL CO-PITCHER OF THE WEEK – Derek Potts, Arkansas-Monticello, SP, Jr., Decatur, Texas

Potts spun a two-hit shutout against No. 4/6 Southern Arkansas on Friday. The 10-0 Weevil win represented the first time an opponent shut out SAU since March 2, 2018, a span of 210 games. He struck out eight and allowed just four Muleriders to reach second base.

GAC BASEBALL CO-PITCHER OF THE WEEK – Carter McCall, Harding, SP, Sr., St. Charles, Missouri 

McCall matched the longest start by a GAC pitcher in the last eight years when he threw 10.0 innings in a dramatic 1-0 victory against Arkansas Tech on Friday. He limited the Wonder Boys to five hits. In the 144-pitch effort, he struck out eight as he improved to 6-2 and lowered his ERA to 3.42, the third-best mark in the conference.

OTHERS NOMINATED

Dustin Bermudez, SS (Ouachita), Jakob Machuca, OF (Southern Arkansas), Matt Miles, OF (Southeastern Oklahoma State), Ramon Vingochea, INF (Southwestern Oklahoma State)

Parker Abrego, RP (Southern Arkansas), Cole Canuteson, SP (Southeastern Oklahoma State),Hunter Gautreaux, SP (Ouachita), Jake Hamilton, SP (Oklahoma Baptist)