07 Jun 2023

Harding men ranked No. 4 in Central Region

SEARCY – Harding men's tennis concluded the 2023 season ranked No. 4 in the NCAA Division II Central Region, according to the Intercollegiate Tennis Association, who released its postseason regional rankings Thursday. It was the fourth straight season Harding's men ranked in the top five in the region.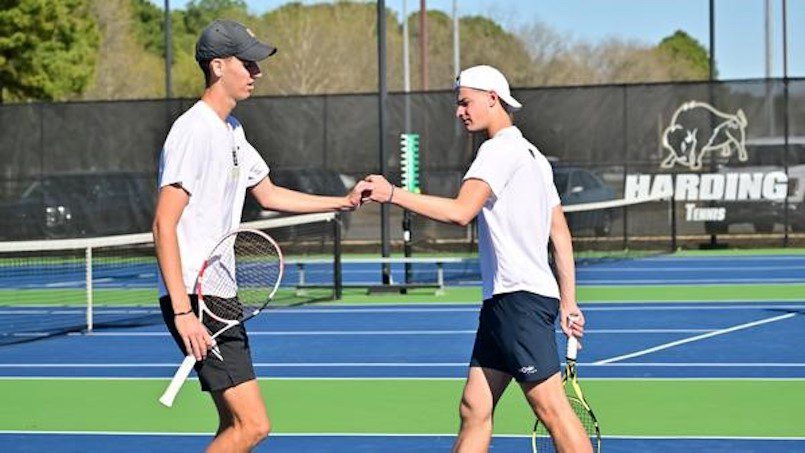 Harding senior Dani Ortiz was ranked No. 8 in Central Region singles, followed by sophomore Teodor Zlatar at No. 10 and sophomore Cas de Ruiter at No. 15.
It is the third straight season Ortiz has finished the season ranked in the top 10 in the region in singles. He was ninth in 2021 and fourth in 2022. Zlatar and de Ruiter were both ranked for the first time.
Harding has had at least one player ranked in the top 20 in the region dating back to 2017.
The Bisons had two doubles teams in the top 10 in the region. Cas de Ruiter and Cian Mikkelsen, undefeated at 15-0 during the season, were the region's top-ranked doubles team. Ortiz and Zlatar were ranked No. 8.
De Ruiter and Mikkelsen are the first Harding duo ever to finish a season ranked No. 1 in the region. The previous high was third, by Alejandro Sendra and Morgan Salvan in 2019 and Arthur Bellan and Dani Ortiz in 2022.
Ortiz has been part of a regionally ranked doubles team in each of the last three seasons. He was ranked No. 10 with Bellan in 2021 and No. 3 in 2022.