13 Sep 2023

Harding golfer secures first career win in thrilling playoff

BROKEN ARROW, Okla. – The Harding women's golf team wrapped up a historic performance at the NSU Classic on Tuesday, surging two spots up the leaderboard and recording an extraordinary school-record score of 7-over 295. Their collective score of 18-over 594 secured a second-place finish, establishing a new school record for a 36-hole tournament.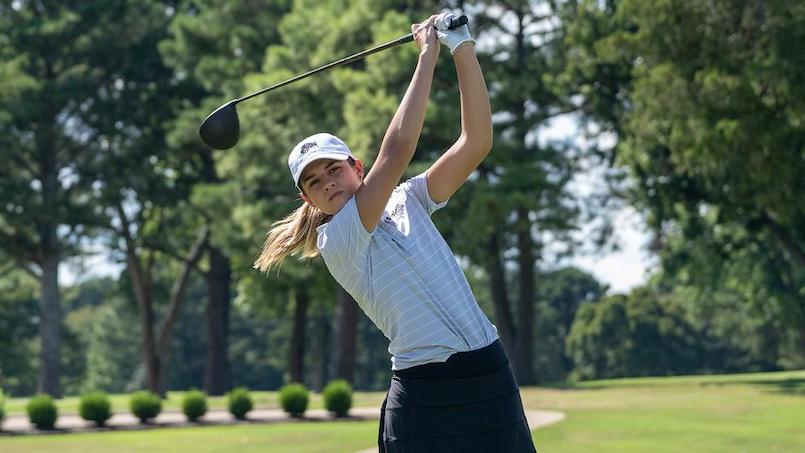 Pilar Martinez clinched her first career victory with an outstanding performance on Tuesday, carding a remarkable 5-under 67, breaking the school record round by two strokes. This effort propelled her up eight spots to tie for first place at 3-under 141. Martinez's stellar showing culminated in a playoff victory against Freya Sala from Southwestern Oklahoma State. Martinez birdied the first playoff hole to win.
Madeleine Wilson, competing as an individual, shared 12th place individually, posting a final score of 7-over 151, including a 3-over 75 on Tuesday. Kodie Winnings duplicated her Monday performance with another 4-over 76 on Tuesday, finishing tied for 15th place at 8-over 152. Alicia Martinez staged a remarkable comeback by sinking six birdies and shooting an even 72 on Tuesday, ascending 29 spots to tie for 18th place at 9-over 153.
Brenda Sanchez tied for 23rd with a score of 10-over 154 after her 10-over 82 in Round 2. Sydney Kincade ended tied for 38th with a 13-over 157, courtesy of her 8-over 80 on Tuesday.

The Lady Bisons will aim to maintain their impressive start to the year at the DBU Classic in Denton, Texas, scheduled for Sept. 18.