12 Jul 2023

Harding celebrates academic excellence on the court

SEARCY  – Harding women's tennis received the ITA All-Academic Team honor, with five players earning the ITA Scholar Athlete award on Tuesday.


To qualify for the ITA All-Academic Team award, teams needed a cumulative GPA of 3.2 or higher. Harding's women achieved a 3.42 GPA, marking their sixth consecutive year earning this distinction.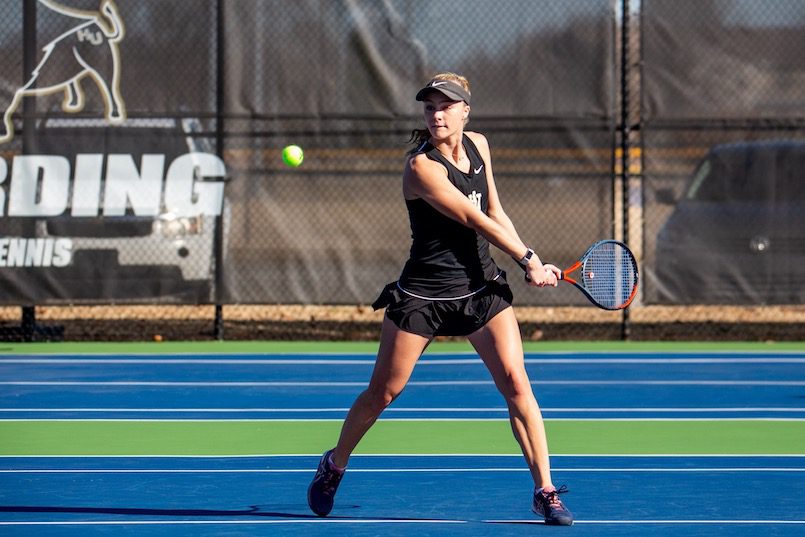 The following individuals received the ITA Scholar Athlete award for the 2022-23 school year with a GPA of 3.50 or higher: Grace Dodd, Ella Graham, Rachel McCrae, Ashley Nilsson, and Reka Pecsi.

Dodd, a senior finance major from Dallas, Texas, had a perfect 4.00 GPA last year. She was recognized as a First Team All-GAC member and finished the season ranked 59th in Division II singles.

Graham, a sophomore computer science major from Towanda, Kansas, also achieved a perfect 4.00 GPA. As a freshman, she secured three singles wins and three doubles wins.

McCrae, a senior exercise science major from Blackburn, England, maintained a 4.00 GPA, earning her fourth consecutive Scholar Athlete honor. Throughout her career, McCrae won 40 singles matches and finished with a .678 winning percentage, ranking 25th in program history.

Nilsson, a senior exercise science major from Edmonton, Alberta, received her third Scholar Athlete honor with a GPA of 3.67. She accumulated 26 singles victories and 26 doubles victories during her career.

Pecsi, a freshman music major from Nagykrös, Hungary, joined Harding in January and achieved a 3.56 GPA. She secured four singles wins and one doubles win during the spring semester.

Since 2015, Harding has been awarded a total of 53 ITA Scholar Athlete accolades.