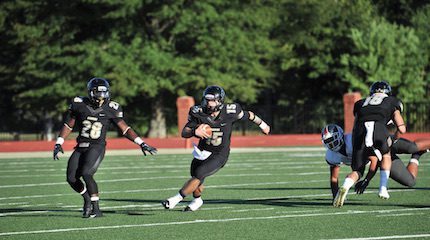 06 Aug 2016

HARDING: Bison charging toward playoff return in 2016

Conference: Great American
Coach: Ronnie Huckeba
'15 Record: 7-4

Harding lived on the edge of greatness in 2015. The Bison lost four games last fall by an average of less than a touchdown. Coach Ronnie Huckeba and the Bison know what could have been in 2015.

"For most teams, a 7-4 season is reason for celebration, but after three consecutive 9-2 seasons, Harding's coaching staff and players were disappointed with the way the 2015 season unfolded," said Scott Goode, Harding sports information director. "The expectations for Harding football have risen to where coaches and players expect to contend for the conference championship and the Division II playoffs."


Harding returns a bevy of experience at the skill positions on offense. Senior Park Parish — a former 501 Football Team honoree out of Clinton — returns at quarterback after earning All-GAC as a junior. Three rushers return with a combined 1,900 rushing yards of output: senior fullback Michael Latu (803 yards and 11 touchdowns), senior slotback Eric Kelly (384 yards and one touchdown) and junior slotback Zach Shelley (713 yards and four touchdowns). Junior Andrew Dather, a Conway Christian product, returns to lead the receiving corps. Dather led the Bison with 424 receiving yards in 2015. Three starters return on the offensive line: senior left tackle Eric Mitchell, junior right tackle Gavin De Los Santos and sophomore center Bryce Bray.


Seven starters return to the Bison defense. Seniors Trevon Biglow (end), Cordell Zalenski (end) and De'Onte Garrett (nose guard) bolster the defensive line. Harding's leading tackler last season, senior Daylan Skidmore (82 total tackles, 1.5 sacks and one interception), returns at linebacker. Seniors Scott Middleton (safety) and Corey Bassett (corner) and junior Daylon Markham (safety) return in the secondary. Junior Tristan Parsley returns to handle place kicking duties.


"Offensively, Harding will continue with the flexbone offense that has seen the Bison finish in the top five in NCAA Division II in rushing in each of the last five seasons," Goode said.